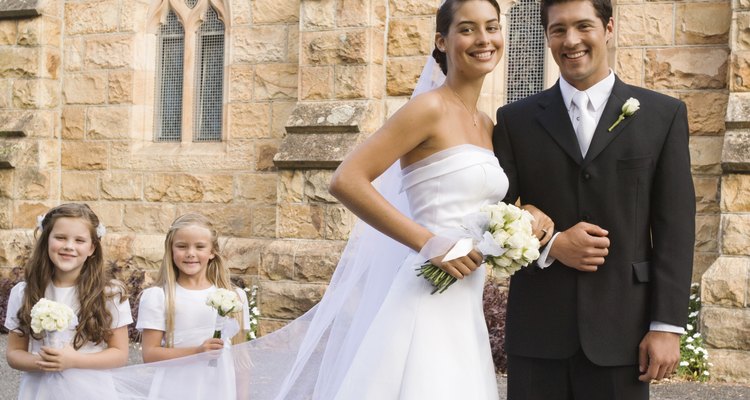 Jupiterimages/Pixland/Getty Images
It's a tradition for brides to be given something old, something new, something borrowed and something blue. You can help the bride-to-be add a modern or traditional touch to the customary ritual. Usually these items are given from the mother of the bride, a sister, relatives and other bridal attendants just before the wedding, but a bride can also select these tokens. Items are usually worn and may be obvious, or subtle and hidden. This fun tradition, dating from Victorian England, can be fulfilled in a variety of creative ways to add meaning and inspiration for everyone who helps.
Choose something old. The old can represent what the bride is leaving behind as she embarks on her new future, while still reminding her of the continuity of her family. Give her something owned by a grandparent from either the bride or the groom's side. This could be an old lace handkerchief placed around the floral arrangement she carries down the aisle. Or choose a piece of jewelry from either the mother of the bride or groom that she can wear on the wedding day, such as earrings, a necklace or even an heirloom wedding band worn as a charm on a necklace. If the old item is also borrowed for the occasion, it can work double duty to meet another part of the tradition.
Give something new. The new can represent something the bride will gain through marriage and her hope for the future. Create a charm bracelet or locket containing pictures of the couple when they first started dating, or purchase another piece of jewelery she can wear for the wedding. Something new can also be considered her wedding gown, headpiece or even her shoes, since those will likely be new for the wedding.
Contribute something borrowed. Traditionally, this item should come from a happily married woman who is letting the bride "borrow" some of her marital success. The borrowed item can be something meaningful or emblematic about the person lending the item to the bride. This could be a necklace, earrings, bracelet or even the wedding gown loaned from a parent, friend, grandparent or even great-grandparent. To keep with the tradition, the item must be returned after the wedding.
Provide something blue. The blue item represents fidelity and loyalty, and can be symbolic or just plain fun. Choose something hidden or small that only you and the bride know about, such as a blue ribbon secreted in her bridal bouquet. You could also paint the bride's toenails blue with nail polish, design a garter that includes a little blue lace or give her blue lingerie to wear under her gown.
References
Writer Bio
This article was written by a professional writer, copy edited and fact checked through a multi-point auditing system, in efforts to ensure our readers only receive the best information. To submit your questions or ideas, or to simply learn more, see our about us page: link below.
Photo Credits
Jupiterimages/Pixland/Getty Images