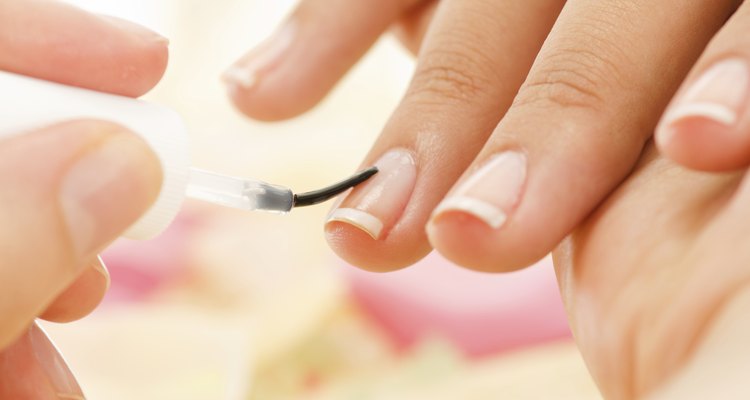 clownbusiness/iStock/Getty Images
The Emily Post Institute, an etiquette authority, recommends tipping your nail technician 15 to 20 percent of the bill after each visit. Around the holidays, however, or if she's celebrating a birthday, it's appropriate to give the salon employee a gift. Whether you buy her something tied to her hobbies, try to pamper her or keep your gift generic, aim to spend about the price of one salon visit.
Address Her Hobbies
General conversation and careful observation can help you determine your nail technician's hobbies and select an appropriate gift. If she enjoys shopping, buy her a shirt or scarf from a store you know she frequents. A stylish set of coffee mugs is ideal if you see her sipping coffee at work, while tickets to an upcoming fashion show are suitable if you know she loves new styles. If she frequently mentions her small dog, buy a chic coat for the canine.
Focus on Health
Your nail technician spends considerable time pampering you, so it's appropriate for you to repay the favor. Buy her a voucher for a free facial, massage or Tai Chi session, depending where her interests lie. Other health-related gift ideas include a consultation with a nutritionist if she's told you about a desire to improve her diet, a personal training session if she enjoys working out or an acupuncture session if she wishes to reduce her stress levels.
Build a Basket
A customized gift basket can help your nail technician get through a long day at work. Load the basket with treats such as chocolate-covered almonds and cranberries, protein powder and granola bars. A gift card to a coffee shop or food truck near the nail salon gives her a chance to take a break between clients, while a gift card for a nearby pub provides an excuse to enjoy a few cocktails at the end of the week.
Consider Specific Occasions
The specific nature of the reason for your gift partially dictates what to get your nail technician. If she's getting married, ask around the salon to find her gift registry store and buy her something in the appropriate price range, such as a small appliance or a serving dish. For a technician about to have a baby, seek out her baby registry and buy a pack of baby onesies or bottles for the baby.
References
Writer Bio
Toronto-based journalist William McCoy has been writing since 1997, specializing in topics such as sports, nutrition and health. He serves as the Studio's sports and recreation section expert. McCoy is a journalism graduate of Ryerson University.
Photo Credits
clownbusiness/iStock/Getty Images