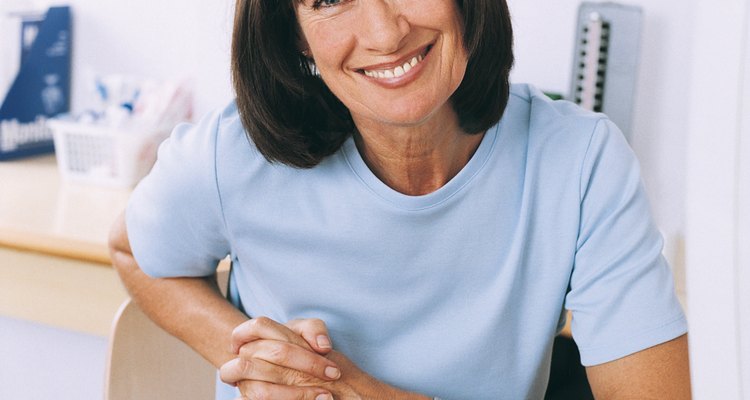 Digital Vision./Photodisc/Getty Images
Frequent trips to visit your OB-GYN, during pregnancy or otherwise, can develop a bond. Show your appreciation for your doctor's gentle care with a gift of thanks. If you've become close with your OB-GYN to the point that you know her areas of interest, tailor your gift accordingly. Otherwise, pair a general gift of thanks, such as something for her office or a gift card, with a thoughtful note of thanks.
Individual-Related Gift Ideas
Getting close with your OB-GYN gives you the ability to gauge what she might like as a gift. Recall your conversations to determine her interests away from the office -- remember, her profession doesn't necessarily dictate her hobbies or interests. If she's a foodie, give her a gift card to a gourmet food store or a pair of tickets to an upcoming food and wine show. For the amateur decorator, opt for a gift card from a home furnishings store or an antiques store. If your OB-GYN has children, buy passes to a water park or children's museum.
Office and Desk Gifts
Office gifts are suitable to give to your OB-GYN as a sign of your appreciation. An engraved pen and a note paper holder, a holder for her business cards or a desk clock are all items that are practical for your OB-GYN to use. Other worthwhile gift ideas include a jar full of mints or jelly beans to place on her desk or a decorative holder for a box of tissues or hand sanitizer. She'll be able to share some of these items with her patients.
Keep It Simple
Stick to a general gift idea if you don't know your OB-GYN's interests or are unsure about what items she might need for her office. A gift card to a coffee shop or grocery store shows your appreciation and is something your doctor will be able to put to use. Homemade snacks, such as a plate of brownies, a tray of cupcakes or a bowl of granola, show your appreciation and give your OB-GYN the ability to share the treats with others around the office, including the administrative staff that you meet during your appointments.
Convey Your Message
Some doctors are reluctant to accept gifts from patients, but it's always acceptable to present your OB-GYN with a note that expresses your thanks for her care. Whether she's been by your side through your pregnancy or is just always adept at caring for you, write a handwritten card to convey your appreciation. Make your note personal by detailing why you appreciate the doctor's care, and cite an example or two to reinforce your message. Include a mention about the future, such as you look forward to seeing the doctor again during your next appointment.
References
Writer Bio
Toronto-based journalist William McCoy has been writing since 1997, specializing in topics such as sports, nutrition and health. He serves as the Studio's sports and recreation section expert. McCoy is a journalism graduate of Ryerson University.
Photo Credits
Digital Vision./Photodisc/Getty Images