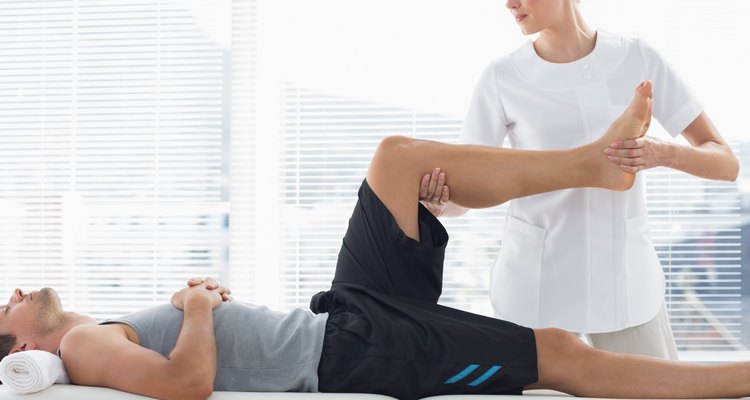 Wavebreakmedia Ltd/Wavebreak Media/Getty Images
After an accident or an injury, your physical therapist can play a monumental role in helping you regain your physical strength or bodily function. While a material item will hardly offset the immense assistance a therapist can provide, giving a gift upon the completion of your partnership is a way to show your true appreciation for the therapist's help. The gift you select, whether it's a general gift or one tailored to the therapist, involves a little digging.
Questions and Verification
During your tenure with your physical therapist, make a subtle effort to engage her in conversations that will indicate her particular areas of interest. This approach is necessary if you wish to buy a gift that aligns with her hobbies or interests, although generic gifts can be suitable if you don't know much about the therapist. Before you shop, always check with the therapist's employer to determine if therapist is allowed to receive gifts from clients.
Gifts Based on Interests
Conversations and observations can indicate the direction you should take when buying a gift for your physical therapist. For a therapist who's into adventure sports, vouchers for a rock climbing center or a pass to go whitewater rafting are suitable. A therapist who indicates he's an amateur foodie will enjoy the gift of some gourmet cooking classes at a local community college. If you know your physical therapist has children, a family pass to a museum, water park or zoo shows your appreciation.
Health-Themed Gifts
Many physical therapists are passionate about staying healthy, and even if you aren't sure of your therapist's specific interests, health-conscious gift ideas are ideal. Buy a gift card for a health food store or buy a selection of healthy snacks from the store and bundle them into a personalized gift basket. Gift cards for sporting goods stores are also suitable, as is a gift card to a restaurant that emphasizes a healthy menu.
Gifts on a Budget
Physical therapy isn't cheap, and if you've spent a considerable amount of your resources paying for the treatment sessions, you might not have a large gift-buying budget. In this case, simple, everyday items are valuable. Ideas include a gift card from a cafe, bakery or deli near the therapist's office -- even $10 is enough to buy a snack or put toward lunch. Something homemade, such as a batch of trail mix or a plate of cupcakes, can also say thanks without breaking the bank.
Words of Thanks
Giving a gift to your therapist shows your thanks, but it isn't an excuse to avoid writing a thank-you note by hand. Share your appreciation through this important form of correspondence by using precise examples to explain your gratitude. For example, write about the challenges you faced by having trouble walking after your injury, but note how you're now looking forward to your daily morning walks. Stress that your physical therapist played an instrumental role in your recovery, and share a heartfelt sentiment such as, "It seems trivial to just say 'thank you' for all you gave me, but there aren't words to describe the difference you made."
References
Writer Bio
Toronto-based journalist William McCoy has been writing since 1997, specializing in topics such as sports, nutrition and health. He serves as the Studio's sports and recreation section expert. McCoy is a journalism graduate of Ryerson University.
Photo Credits
Wavebreakmedia Ltd/Wavebreak Media/Getty Images