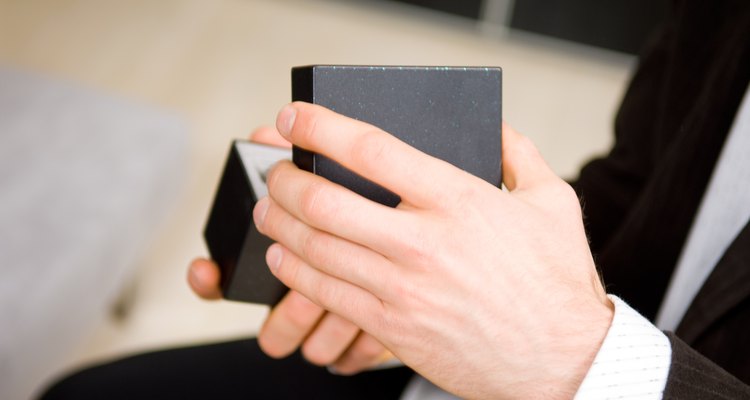 Jupiterimages/Photos.com/Getty Images
Losing a father, especially suddenly, is one of the most challenging events anyone will ever experience. And while nothing can reverse the pain of this troubling time, providing a gift that perfectly encapsulates the deceased can help the son or daughter through the period of grief. When brainstorming gift ideas, always consider factors such as the father's personality and the age of the children.
Keep It Traditional
If you aren't extremely close to the family in mourning, play it safe by keeping your gift traditional. Gifts such as flowers and gift baskets are a suitable choice for the children of someone who has passed away. Add some creativity to the gifts by considering the father's personality or interests. For a father who didn't enjoy a fuss, one individually wrapped flower with a note explaining your choice might bring a smile to his child. A financial gift to the father's favorite charity or the hospital that looked after him when he was ill is also valuable.
Lend a Hand
When someone loses a father, getting a physical gift often isn't as important as receiving an offer to help. Depending on your relationship with the family member, pledge your assistance with any type of task, such as cooking some meals, tending to basic household chores like mowing the lawn, babysitting or taking family members to appointments. You can also offer, when the time is right, to lend a hand with going through the father's clothing and personal possessions, especially if his children find doing so is an overwhelming and difficult task.
Specialty Gifts
A close relationship with the child of the deceased often allows you to buy or make a unique gift. If the father was a dapper dresser, a pair of cuff links or money clip engraved with the father's initials can be a welcome gift. For a father who was an avid outdoorsman or amateur mechanic, a set of handmade fishing flies in an engraved box or an engraved automotive tool might be a present the family member will cherish for years.
Share Your Words
Following the death of a parent, kind words can often mean more than a gift. Put together your fondest memories about the deceased and share them in a handwritten letter or, if you're really creative, a poem. This type of gift is suitable for children of any age, but it's especially valuable for young children who might not have many memories of their father. Throughout their life, they can consult your letter to help develop an understanding of the way their father was.
References
Writer Bio
Toronto-based journalist William McCoy has been writing since 1997, specializing in topics such as sports, nutrition and health. He serves as the Studio's sports and recreation section expert. McCoy is a journalism graduate of Ryerson University.
Photo Credits
Jupiterimages/Photos.com/Getty Images