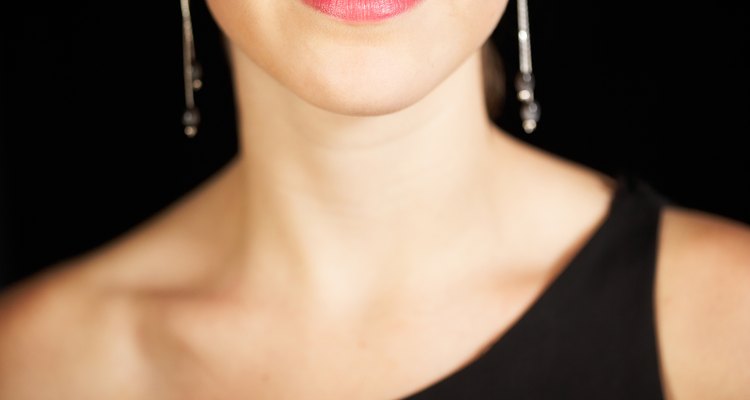 Jupiterimages/Photos.com/Getty Images
If you decide to wear a one shoulder dress for a formal event, such as a party or dance, ensure your hairstyle compliments your gown. Wearing long hair loose can hide the detail of the dress, so accentuate your gown with a side sweeping updo or hair style. If you have shorter hair, then you will still be able to wear your hair loose without hiding the detail in the dress, so just add hair jewels or accessories to update your look. However you decide to style your hair, practice plenty of times before the event to ensure you are happy with the hairstyle and feel confident with your look.
Side Ponytail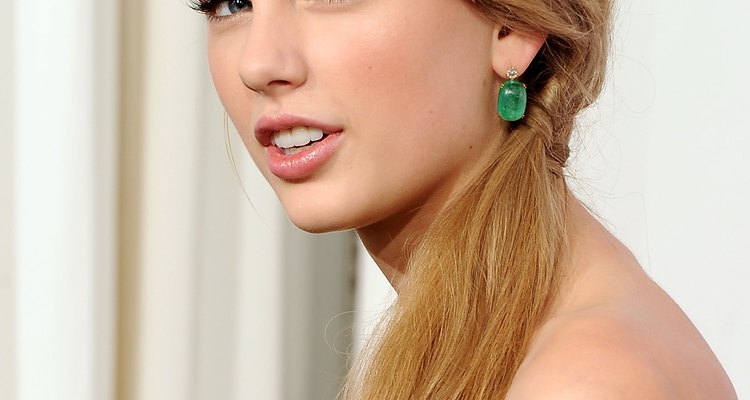 Jason Merritt/Getty Images Entertainment/Getty Images
A side ponytail looks classic, sophisticated and elegant, and it is easy to achieve this look yourself at home. Work with your hair type. If your hair is thick, then a sleek straight ponytail will work well. If your hair is thinner, add curls with a curling iron to give your ponytail more shape. To try the look, sweep all the hair over to one side of your head and secure into a low ponytail. Leave the ponytail draped over your shoulder. For more impact, wear the ponytail on the open shoulder side.
Messy Bun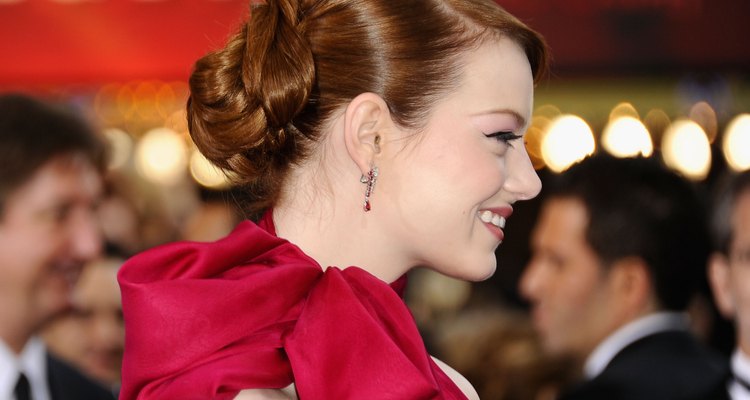 Frazer Harrison/Getty Images Entertainment/Getty Images
A messy bun is a simple updo that is easy to achieve in minutes. Although this style may look complicated, it is actually very easy to do at home and will work perfectly with a one shoulder dress. This look works best on hair that is not freshly washed as the oil in the hair will help your style hold. To try a messy bun yourself, tie your hair into a ponytail at the back of your head. Twist pieces of the ponytail, wrap around the ponytail holder, and then secure each piece in position using bobby pins. To create a messy effect, tease sections of the bun out of place using the pointed end of a comb. Finish with hairspray so that your hairstyle holds throughout the evening.
Side Sweeping Curls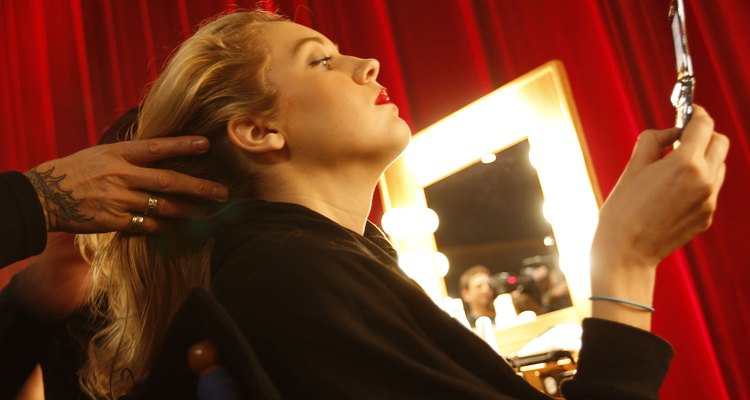 Michael Buckner/Getty Images Entertainment/Getty Images
If you prefer to wear your hair loose, wearing it to the side will complement your dress without disguising the detail. Use a curling iron to curl one-inch sections all over your head. Start at the back and then work your way around to the sides when curling as the back section is the hardest section to complete yourself. Define and separate your curls with your fingers for a loose, wavy look and sweep all of the hair over to one shoulder.
References
Writer Bio
Based in Manchester, U.K., Natalie Baker has been a freelance beauty and fashion writer since 2009. Her work appears in the beauty pages of "The Detour Magazine" and online at Just Makeup Artists. Baker is experienced in both television and print journalism, and holds a Bachelor of Arts broadcast journalism from Salford University.
Photo Credits
Jupiterimages/Photos.com/Getty Images