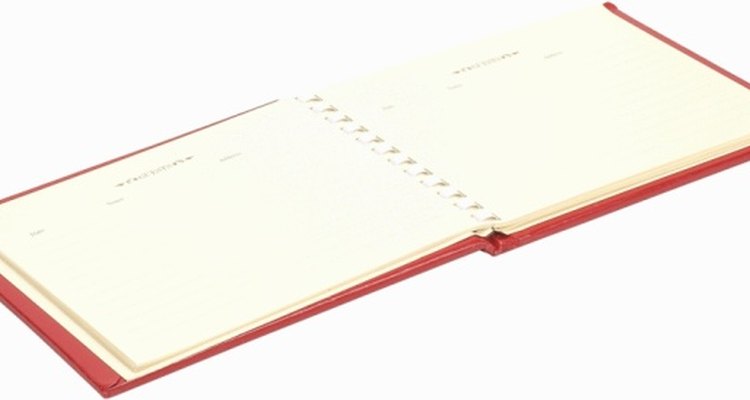 Zedcor Wholly Owned/PhotoObjects.net/Getty Images
If you're in charge of planning a funeral or memorial service, you have a lot of details to remember and tasks to complete, all during a time of mourning. Arranging a guest book for funeral attendees to sign might seem a minor consideration, but it will be greatly appreciated by family and other close loved ones who don't have a chance to see everyone at the funeral but want to know who was there. Reviewing the guest book and reading condolences while further along in the grieving process can be a very pleasing way to remember a loved one who has passed. It's a reminder of how much they are missed and were valued and offers a different, sometimes surprising, perspective on their life from others who knew them.
Choosing a Funeral Guest Book
At its simplest, all you need to do for a funeral sign-in book is purchase a quality, hardbound notebook with blank pages and a pen. It might be a guest book designed for funerals, with "in loving memory" or just "guest book" embossed on the cover. Some include a window for a photograph of the deceased. You could also use any blank notebook with a plain cover and an appropriate number of pages to match the number of guests. Look for a weighty book with heavier pages that preferably lies flat so you can leave it open on a table.
DIY Funeral Guest Books
Guest books for funerals can become DIY projects. Choose a suitable binder or album designed for scrapbooking and fill it with blank scrapbook pages in an appropriate color or pattern. Print photographs of the deceased onto blank pages before putting them into the binder. Leave space for guests to write their greetings alongside the photographs, or use a transparency filter so that the photos can be written over. You can also scan or photograph and then print personal items and memorabilia onto the pages. Examples include wedding rings, an item of jewelry the deceased often wore, a passport page with stamps from foreign vacations, newspaper clippings and awards or medals.
Display Ideas and Other Items
Place the guest book on a desk or table near the entrance/exit of the funeral venue. You will also need to offer a couple of nice ink pens, which you might display in a small vase or other suitable container. Write or print a notice to frame and display on the table asking guests to sign the book. If you want guests to write down happy memories of the deceased, say so on the notice. Encourage them to share stories in the guest book. Shared memories are known to help loved ones grieve.
Before the funeral, possibly in the funeral notice, ask guests to bring a favorite photo to include in the guest book. They could also send them to be added later. Provide something such as a glue stick, glue dots or sticky tape so guests can affix photos alongside their messages in the guest book. If the table looks a little bare, add flowers, candles, a few framed photos and even a bowl of the deceased's favorite candies.
After the Funeral
If blank pages are left in the guest book after the funeral, or if it's a binder or album that can hold extra pages, add to it. Print out emailed condolences you received and paste them in the book along with cards and handwritten notes. Press some of the funeral flowers, or flowers from your loved one's garden. If you're charged with going through the deceased's belongings, use the guest book as a place to hold items such as letters, documents and even just a few scraps of the person's handwriting. All will add to the value of the book as a repository of memories.
References
Tips
Explore free templates for guest books and scrapbooks on websites such as Microsoft and Hewlett Packard. Explore websites for showers and weddings for templates and design ideas that can be appropriately altered to create a funeral guest book.
Writer Bio
Joanne Thomas has worked as a writer and editor for print and online publications since 2004. Her writing specialties include relationships, entertainment and food, and she has penned pieces about subjects from social media tools for Adobe to artists' biographies for StubHub. Thomas has also written for such names as Disney, Hyundai, Michelob and USA Today, among others. She resides in California and holds a bachelor's degree in politics from the University of Bristol, U.K.
Photo Credits
Zedcor Wholly Owned/PhotoObjects.net/Getty Images