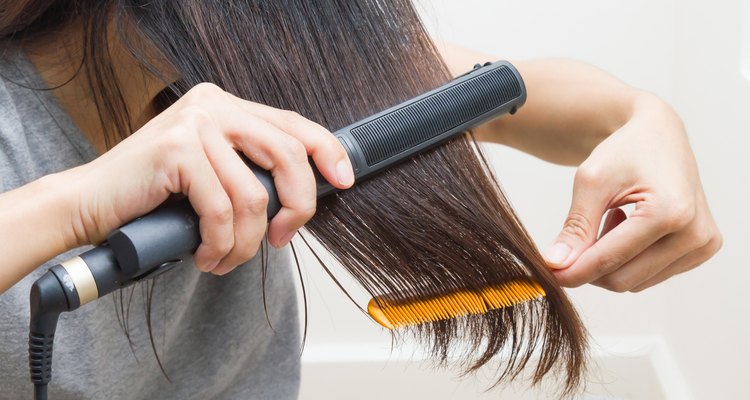 Jringjai/iStock/Getty Images
Electric pressing combs are used in place of ceramic flat irons for brittle hair that is easily damaged by too much heat. Electric pressing combs have large barrels and stainless steel combs that heat up when plugged in. The comb is then used to separate the hair and smooth it without the damaging effects of a flat iron. An electric pressing comb can create straighter hair but if used improperly could cause burns and damage as well.
Straight Hair
The purpose of a pressing comb is to achieve straighter hair. To use a pressing comb, you allow the comb portion to heat, and then pull your hair taut and run the comb along the section of hair to help straighten it. While Ololade Franklin, author of "My Black Hair Journey," says that although a flat iron is typically more effective, pressing combs work well on dry, brittle hair that is prone to damage to help it achieve a straighter style while still maintaining a natural look.
Burns
Since the comb portion of an electric pressing comb is made of stainless steel, it heats up quickly and conducts heat well. If you use the pressing comb carelessly, you could suffer burns. Leaving the pressing comb in the same spot on your hair too long could cause damage, so it's important to keep the comb moving through the hair. Touching the electric pressing comb to your skin could also result in painful burns, so use the tool with care.
Damage
"Soft combing" hair should not have any effect on the condition or the texture of your hair. Soft combing means just going over the hair once. "Hard combing," or going over the hair a second time, helps to achieve the straightest look; however, this could cause damage to your hair, warns "Milady's Standard Cosmetology." Since the hair is already weakened by the first pass of the comb, a second pass could exacerbate damage. Try to stick with just a soft pressing.
Volume
One of the benefits of an electric pressing comb is that it detangles as it passes through the hair for a more natural, voluminous look. Ceramic flat irons tend to flatten the hair, resulting in obvious creases and less bounce. A detangling comb works well for coarse hair because it separates the strands as it passes through, leaving them shiny, straight and with more volume because they've been separated and not flattened.
References
Milady's Standard Cosmetology; Arlene Alpert et al.
Writer Bio
Kay Ireland specializes in health, fitness and lifestyle topics. She is a support worker in the neonatal intensive care and antepartum units of her local hospital and recently became a certified group fitness instructor.
Photo Credits
Jringjai/iStock/Getty Images