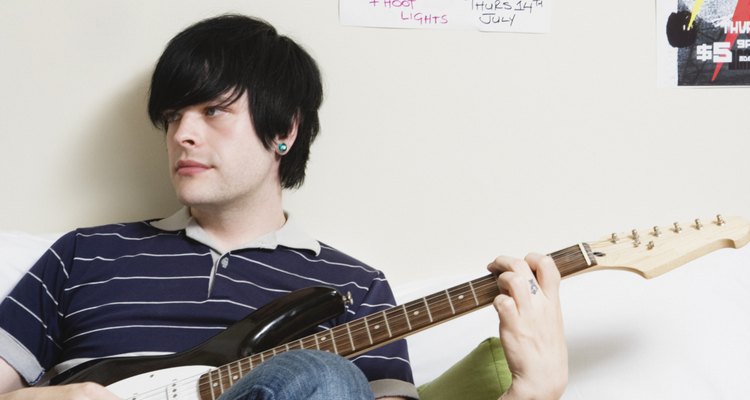 Jupiterimages/Brand X Pictures/Getty Images
Bangs aren't just for ladies anymore. Whether it's a sweeping fringe that grazes your eyes or a shock of hair skimming the middle of your forehead, bangs amp up the style factor -- but they also require extra maintenance and attention, so they aren't for men who can't be bothered. When washing your hair, consider letting your bangs go conditioner-free so they don't get oily.
Keep 'Em Clean
Bangs can get greasy quickly, so avoid touching them to prevent oil on your hands from getting in your hair. If they look grimy, consider washing just your bangs in the sink. Dry shampoo is also ideal for degreasing bangs. Just spray it on and allow the powdery shampoo to absorb excess oil, leaving your bangs nice and fresh.
Trim Your Bangs
Though trimming your own bangs might look easy, it can quickly turn into a disaster. Consider having them touched up professionally every few weeks, and ask if your stylist provides free trims between cuts -- a common practice. If you do decide to self-trim, use scissors specifically made for cutting hair and make sure they're sharp. Always snip in small increments. The "Chicago Tribune" recommends only trimming dry hair, as it's difficult to tell how wet hair will turn out.
Wet and Style
If you wake up with messy, unruly bangs, don't fret. Thoroughly wet them down with water and restyle with a hairdryer, using a brush or comb to create your desired look. Avoid using a large, round brush, which will give you feminine, voluminous bangs. Instead, use a fine tooth comb and a quick spritz of hairspray to finish things off. Avoid using too much, though, or it will look like your bangs are glued in place.
Keep It Appropriate
As "GQ" says, "your hairstyle should be a direct reflection of your lifestyle," and your bangs should match up with who you are personally and professionally. If you're working in an office, long, sweeping bangs probably aren't appropriate, as you'll need something more conservative. Same goes if you're an on-the-go type and want a quick, no-fuss style, for which short and neat bangs are better suited. Also consider cost: If free trims aren't an option, maintenance can get expensive.
References
Resources
Writer Bio
Hallie Engel is a food and lifestyle writer whose work has appeared in several international publications. She served as a restaurant critic for "Time Out Abu Dhabi" and "Time Out Amsterdam" and has also written about food culture in the United Arab Emirates for "M Magazine." She holds a bachelor's degree in communications and film studies from University of Amsterdam.
Photo Credits
Jupiterimages/Brand X Pictures/Getty Images