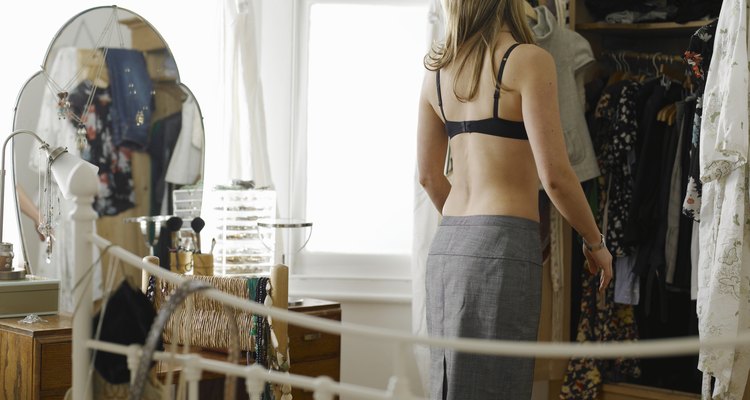 John Howard/DigitalVision/Getty Images
A good outfit starts with a good foundation, which means that picking out your undergarments can be just as important as the actual outfits you wear. Wearing bras can be tricky. The right bra leaves you looking well put together, while the wrong bra can completely ruin your look. There are times and places to wear black and nude bras. Make sure you know how to get the most mileage out of your bra by wearing it correctly.
With White
Wearing a black bra under a white top is pretty much always a fashion no-no. Regardless of how thick your white top is, get it under the right light and there's a pretty good chance that your bra will show through. When wearing white tops, opt for a nude bra instead of any other color; this includes white, which also shows through due to its brightness. Anything that's going to make your bra an evident part of your ensemble is generally not a great idea.
Colors, Prints and Fabrics
You can almost never go wrong with a nude bra. As in the case with a white blouse, nude is the ideal choice under colors and prints when the fabric or color hue is light enough to allow your underclothes to be visible. Wafer-thin T-shirt fabrics, pastel colors and prints with a light-colored base can easily show a colored bra. Because nude is close to the shade of your skin, it will blend with pretty much anything you wear -- whether it's a little bit sheer or not.
Finding the Right Nude
Women come in all different shades so one woman's nude isn't going to be the same as another's. Many nude bras come in lighter shades, but that doesn't mean that you need to buy a lighter nude if it doesn't match your skin tone. Make sure that you pick a nude bra that most closely matches your skin to get the best results. Luckily, there is a wide range of creams, tans, taupes and espressos to complement any woman's skin tone.
When to Wear Black
No fashion rule is completely straight forward. Black, of course, is an ideal choice when you're wearing a dark shirt, such as burgundy, chocolate or navy blue. If you're wearing a sheer black top, it's perfectly acceptable to wear a black bra under it without putting a camisole between the two, even if the black bra peeks through. Just be sure to pick a bra that gives full support. If you're feeling more modest, pick a blouse that's not super sheer so you still get that sexy hint of bra without going overboard.
References
Writer Bio
Pamela Simmons has been writing professionally since 2009. Her articles on fashion, beauty and other topics have appeared on Denim Therapy and other websites. Simmons serves as an editor and public relations manager for CHIC.TV. She holds a Bachelor of Science in international affairs from Georgia Tech and a Master of Business Administration from Mercer University.
Photo Credits
John Howard/DigitalVision/Getty Images