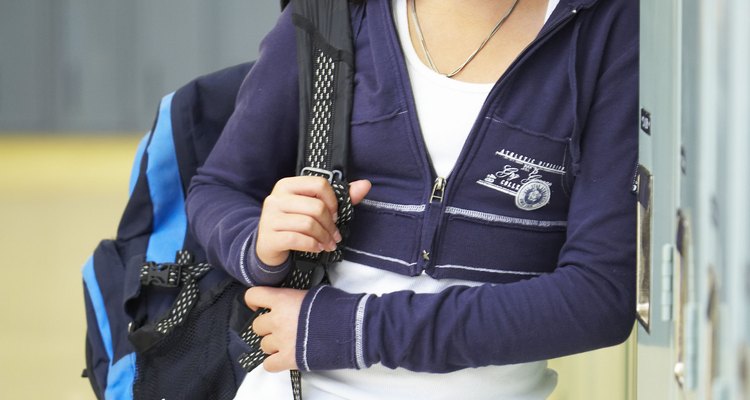 Jupiterimages/Photos.com/Getty Images
Entering the eighth grade is undoubtedly an exciting time. Not only do you rule the school in terms of seniority, but you are about to prepare yourself for the journey of high school that lies shortly ahead. Look and feel your best during this all-important year by dressing in stylish clothing. Having a cute and wearable collection of tops, bottoms and shoes can help put that extra kick in your step and make eighth grade the best year ever.
Totally Cool Tops
Invest in a variety of comfortable but still fashionable tops to keep you appropriately suited for the year. Button-down shirts in chambray, plaids and other patterns mesh well with different washes of denim jeans, while T-shirts in bright colors and bold graphics allow you to stand out among the crowd. Vintage-inspired band tees make for stylish school outfits as well. These can be paired with jeans, a skirt or patterned shorts of an appropriate length. Top these combos off with a zip-up sweater or button-down cardigan for chilly temperatures. For days when you feel like getting a bit dolled up, a colorful blouse in a floral pattern is just the ticket.
Darling in Denim
Stock up on denim to keep comfortable as you navigate through the halls of your school. Versatile denim is the ideal go-to on days that call for a low-maintenance getting-ready routine, but denim doesn't have to be boring. Opt for colored denim in blue, pink or colorful prints and pair with simple neutral tees like white, black and gray. Colored and patterned denim can be combined with a variety of button-down shirts and tanks, so mix, match and experiment with different pairings to get the most out of fashionable denim.
Cute Skirts and Adorable Dresses
Fill your wardrobe with casual skirts and dresses to tackle the eighth grade in style. Whether it's a floral skirt or a pleated plaid pattern, pairing printed bottoms with basic tops is a no-fuss way to dress yourself for school. Be sure these bottoms are of appropriate length and are not shorter than your school dress code allows. Casual dresses in solid jersey fabrics or pretty patterns also make for great school outfits. Top a floral dress with a denim vest or jean jacket to add a bit of edge to a sweet garment. A pair of tough shoes like distressed brown boots complements the overall look.
Flashy Footwear
A pair of sneakers is a footwear necessity when dressing for the eighth grade. Choose a classic, versatile shape to form endless outfits or opt for a bold color or pattern to make a statement. The right sneakers combine well with anything from jeans and a T-shirt to shorts and a tank top for weekends. In addition to sneakers, fashionable boots are a solid choice to take you through the fall and winter months. Choose a neutral like black, brown or beige to pair well with most pieces in your closet. Cute ballet flats in bold solid colors or animal prints also make a style statement. Pair these flats with a cute dress or with jeans and a blouse to rock the halls of your school.
References
Writer Bio
Sara Cantu has been writing fashion and lifestyle articles since 2009. As a fashion stylist, writer and blogger, she has been published in "Lady Couture" magazine and "RGV" magazine. She holds a Bachelor of Arts in journalism from The University of Texas - Pan American.
Photo Credits
Jupiterimages/Photos.com/Getty Images