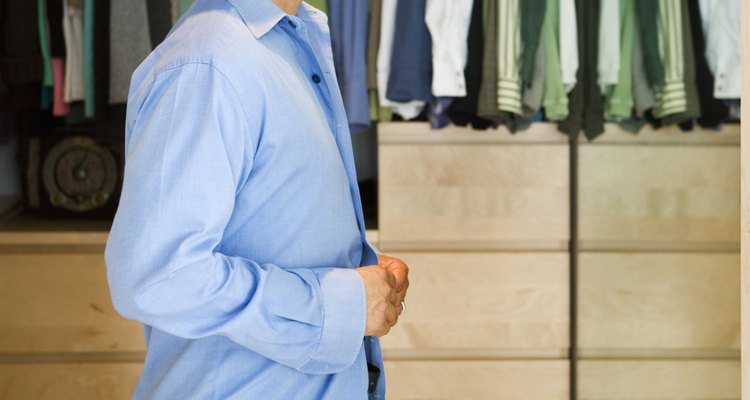 Siri Stafford/Photodisc/Getty Images
If your wardrobe has become a "floor-robe," it might be time to think about getting your closet whipped into shape. Get your hangers hung and your drawers filled with this easy guide to what you should hang and what you should fold. Following these tips will not only keep your closet and bedroom neat, but it will also help your clothes to stay in good condition for longer, allowing you to make the most of your wardrobe investment.
Getting to the Bottom of It
Dress slacks in wool, rayon or other fabrics should be hung. Opt for rounded hangers to avoid creases, and hang the pants over the bar of the hanger. As an alternative, choose hangers with clips and hang slacks from the waists or cuffs. Casual pants, like jeans and khakis, can be hung or folded, depending upon what works best for you. Use clip-style hangers or hanging loops to hang skirts. While most skirts belong on hangers, you should fold knit skirts and place them on shelves or in drawers to help them to keep their shape. Athletic pants of all types should be folded, rather than hung.
On Top of It All
Dress shirts and blouses in cotton, silk or other crisp woven fabrics belong on hangers, as do button-up casual shirts. Hanging these garments will reduce wrinkling and cut down on your ironing. While basic plastic or non-slip hangers are fine for cottons and linens, opt for padded hangers to protect more delicate fabrics. Shaped hangers are best for suit jackets, blazers and coats. Sweaters, fine-gauge knits, and tee shirts should all be folded, rather than hung. If you must hang a sweater, fold it shoulder to shoulder and drape it over the bar of a hanger, rather than hanging it from the shoulders; doing so will allow the garment to keep its shape.
Dressing from Head to Toe
Most dresses should be hung, rather than folded. Choose a hanger type that matches the style of your dress. Shaped hangers are ideal for heavy coat dresses, while padded hangers do well with delicate silk. As with skirts, fold any knit dresses, including jersey knits and sweater dresses. Light-weight, floor-length evening gowns can be hung; be sure to use any hanging loops that are provided. Beaded gowns, whether floor-length or cocktail-length, should be folded. The weight of these dresses can damage them over time if they're hung. Pad the folds with acid-free tissue paper to avoid creasing.
Underneath It All
In general, your undies of all sorts should be folded and out of sight. There are a few exceptions, as some delicates just won't do so well folded in a drawer. Boned corsets should be hung on skirt hangers, and they should be upside down and turned inside-out. Delicate lingerie can be hung from padded hangers, just as you would a fine silk dress or blouse. If you do opt to fold these garments, keep them well away from everyday attire to prevent damage.
References
Writer Bio
With a master's degree in art history from the University of Missouri-Columbia, Michelle Powell-Smith has been writing professionally for more than a decade. An avid knitter and mother of four, she has written extensively on a wide variety of subjects, including education, test preparation, parenting, crafts and fashion.
Photo Credits
Siri Stafford/Photodisc/Getty Images