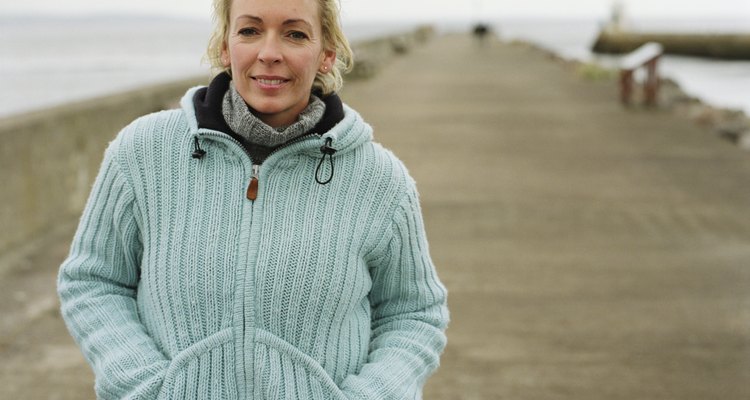 Digital Vision/Photodisc/Getty Images
Fleece-lined jackets are a staple in closets for the colder months. Soft fleece lining is typically accompanied by a waterproof outer layer to keep snow and rain at bay. Fleece is very delicate and can shed if improperly taken care of, but with the correct cleaning and care methods, fleece-lined jackets can provide warmth and protection for years.
Turn the jacket inside out and place it in the washing machine alone. This prevents lint from other fabrics from sticking to the fleece.
Set the washing machine on the delicate or hand wash cycle. These settings provide the least friction while thoroughly cleaning the jacket.
Fill the washing machine with cold water and a gentle powder detergent. Skip the fabric softener and bleach, as this can break down fibers of the fleece and cause it to pill or shed.
Air dry the jacket on a towel rack or other flat surface. This allows the jacket to retain its original shape.
Store the jacket in a drawer when not in use for an extended period. When hanging in an open space, fleece can pick up dust and lint and attract moths that eat the fiber and cause the fabric to shed.
Writer Bio
Celeigh O'Neil has been writing professionally since 2008. She has a Bachelor of fine arts from the University of Ottawa, as well as degrees in fashion illustration/design, digital arts and certification in hair and makeup artistry. O'Neil was a frequent contributor to Toronto's "Dialog" newspaper and has worked as an instructional writer, creating lessons in fashion, art and English for students of all ages.
Photo Credits
Digital Vision/Photodisc/Getty Images