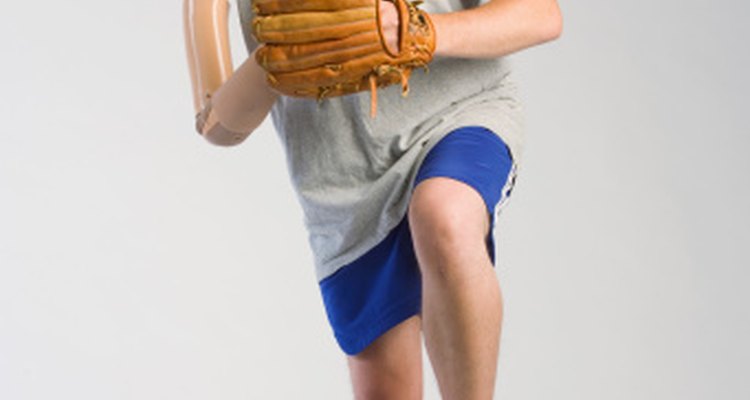 Jupiterimages/Comstock/Getty Images
Prosthetic legs and arms are common devices used to substitute for limbs that have been amputated due to injury or disease. Individuals fitted with prosthetic devices, especially legs, often prefer to cover the leg stump with a soft, protective sleeve to provide comfort and better fit for the prosthetic device. Sleeves are also placed over a prosthetic device to provide a more aesthetic appearance and to cover the mechanical portions of the prosthetic device. Prosthetic sleeves are worn on upper and lower limbs and are designed to help suspend the limb (suspension sleeves) in the prosthetic socket or protect the skin or limb stump inside the device.
Laminated Sleeves
A laminated sleeve to cover a prosthetic device is commonly made of Lycra or spandex. Designs on fabrics vary. Most types of laminated sleeves will adapt to any socket shape. Laminated sleeves are popular with many amputees because of their designs, which can range from flames to camo to tropical vistas and lightning bolts. Such sleeves are especially popular among the younger crowd and help children feel more confident and self-assured. Popular child prosthetic sleeve designs range from Disney art like 101 Dalmatians and Tinkerbell to spaceships, bugs and underwater sea scenes.
Durasleeve BK Sleeve
The Durasleeve BK suspension prosthetic sleeve style is made of neoprene that stretches over limb stumps or prosthetic devices for cushioning or reinforcement. These are designed to reduce wear and tear as well as to protect joints from friction. The BK sleeves are made of neoprene, which offers support and strength in materials with high durability and reinforced wear pockets, depending on type of prosthetic sleeve needed. Such sleeves cost an average of $50 to $100, depending on size and thickness. Washing by hand or machine with either air-drying or delicate cycle drying after every 8 to 16 hours of wear will add to the longevity of this type of sleeve.
Gel Sleeves
Gel sleeves are liners designed in a variety of thicknesses and sizes for comfort and to prevent friction or rubbing between the limb stump and the prosthetic socket. Gels contained in the lining offer nutrients such as mineral and vitamin oils to soothe and protect skin. Washing by hand or machine with air-drying is recommended, with drying to be complete before wear.
Gel Sheath
The gel sheath is a prosthetic accessory that slides over an above-the-knee or below-the-knee amputation and is made of washable synthetic nylon fabric bonded with gels. A gel sheath can be worn as a liner over the limb stump or as a nylon sheath inside the prosthetic device. Gel sheaths cost between $30 and $120, depending on style, fabric and need and size. Hand washing or machine washing is recommended, ensuring the sleeve is perfectly dry (air-dried preferred) before wearing.
Durability
Most types of laminated prosthetic sleeves are washable both by hand and by machine. Made from nylon, spandex, Lycra and other synthetic fibers, the sleeves are priced very reasonably (most averaging around $30 to $50 depending on size, prosthetic and design. Prosthetic sleeves can last up to 6 months or years, depending on use, activity levels and care.
References
Writer Bio
Denise Stern is an experienced freelance writer and editor. She has written professionally for more than seven years. Stern regularly provides content for health-related and elder-care websites and has an associate and specialized business degree in health information management and technology.
Photo Credits
Jupiterimages/Comstock/Getty Images