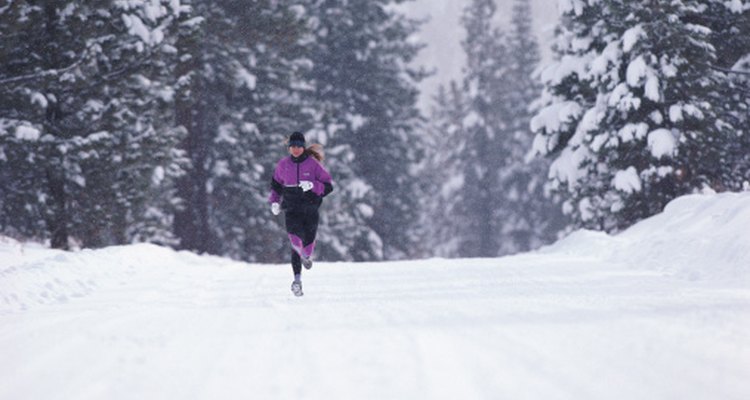 Stockbyte/Stockbyte/Getty Images
Under Armour is known as the developer of performance clothing. Under Armour has a patented Moisture Transport System to keep the wearer dry with a regulated and consistent body temperature. Studies show that after 60 minutes of exercise Under Armour is 52 percent lighter than a cotton T-shirt. Their products remain dryer and lighter after physical activity, making it ideal for those who are physically active.
Climate
Under Armour ColdGear is made to be worn for winter workouts or during other cold-weather activities such as skiing, snowboarding, running, and hunting. HeatGear is made to be worn while exercising in hot temperatures. HeatGear is ideal for outside activities in warmer weather such as baseball, soccer and exercising. Both ColdGear and HeatGear are not only for sports and exercising. Many find their products comfortable even if they are walking the dog or running errands.
Material
HeatGear is made from a microfiber blend that pulls perspiration from the body. The moisture-wicking technology is in all HeatGear products to ensure the wearer stays cool in warmer temperatures. ColdGear is made from a four-way stretch fabric that disperses heat from the body. ColdGear products are built to keep internal body temperature high without wearing cumbersome multiple layers.
Styles
HeatGear offers short-sleeve and sleeveless fitted or loose T-shirts as well as polo shirts, baseball caps, headbands, batting gloves, wristbands, and shorts. ColdGear offers jackets, vests, mock turtlenecks, hooded sweatshirts, leggings, pants, gloves and socks. All ColdGear and HeatGear products are available for men, women, and youth.
Price
HeatGear, due to the thinner materials, has a lower price point. As of late 2010, prices range from $19.99 to $54.99. ColdGear has a slightly higher price point and ranges from $27.99 to $279.99.
Colors and Prints
Both ColdGear and HeatGear products are available in Under Armour's basic color palette of navy, black, gray and red. HeatGear also comes in colors suitable for a warmer climate such as bright greens and pinks, baby blue, and white. ColdGear leggings and tops are offered in a Mossy Oak camouflage print suitable for hunters.
References
Writer Bio
Rachel Burton started writing professionally in 2008. Her work can be found in "Out N' About" newspaper. Burton has a Bachelor of Arts degree in English and sociology.
Photo Credits
Stockbyte/Stockbyte/Getty Images