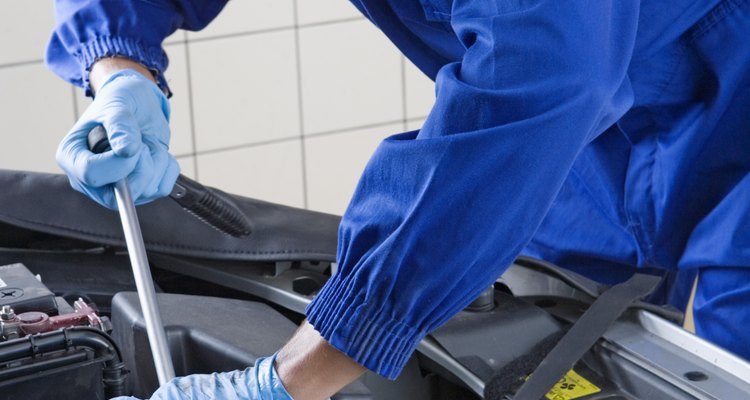 IT Stock Free/Polka Dot/Getty Images
Mechanics work around heat, chemicals, oil and in dirty environments daily. Uniforms are generally prescribed by the mechanic's employer, meeting the durability, protective and cleaning requirements necessary to remain comfortable and presentable. The variety of clothing options for mechanics suits the varied situations in which these individuals perform, as well as the services they provide.
Shirts
Mechanics typically wear a long or short-sleeve button down shirt, comprised of some combination of cotton and synthetic fibers. The natural fibers allow breathability, while content like polyester or rayon makes the shirt a little easier to clean and stay pressed. These shirts may be plain, feature spread or button-down collars, or have a stripe or company logo emblazoned somewhere.
Coveralls
Coveralls are designed to zip up over the usual shirts and pants that comprise the shop uniform. Coveralls typically have a button, zipper or hook-and-loop closure system, with a lighter-weight back to keep the mechanic cool. Coveralls are great for those situations where it's likely the mechanic will encounter significant vehicle fluid leakage, or when they have to cart under a vehicle.
Trousers
Like the button-down shirts that help make up a mechanic's uniform, the accompanying trousers are made with a mixture of natural and synthetic fibers. Trousers may come in a dress pant or jeans style, offering enhanced stain releasing properties and the right combination of breathability and durability. Trousers are usually closed via zipper. Both shirts and pants, due to their synthetic fabric content, should not be cleaned at temperatures over 160 degrees Fahrenheit.
Jackets and Outerwear
Mechanics often work in bays where the doors must stay open, even in cold weather. Additionally, walking to and from vehicles in the parking lot, or looking at a problem with a customer in these conditions means a jacket is a necessity. This outerwear usually has a soft liner, zippered closures for the body and pockets, and is made of synthetic and natural blended materials. Jackets are typically waist-length, keeping mechanics unencumbered and warm.
Mechanic's Gloves
Mechanics, by necessity, are constantly using their hands to do their jobs. Mechanic's gloves feature rubber grips on the palm, allowing the technician to keep hold of his tools while reducing blisters and callouses. These gloves often have a certain degree of puncture and thermal resistance, for the inevitable contact with a hot vehicle component or sharp sheet metal. These gloves are reasonably thin, offering good protection while allowing the mechanic to maintain proper dexterity.
References
Writer Bio
David Lipscomb is a professional writer and public relations practitioner. Lipscomb brings more than a decade of experience in the consumer electronics and advertising industries. Lipscomb holds a degree in public relations from Webster University.
Photo Credits
IT Stock Free/Polka Dot/Getty Images