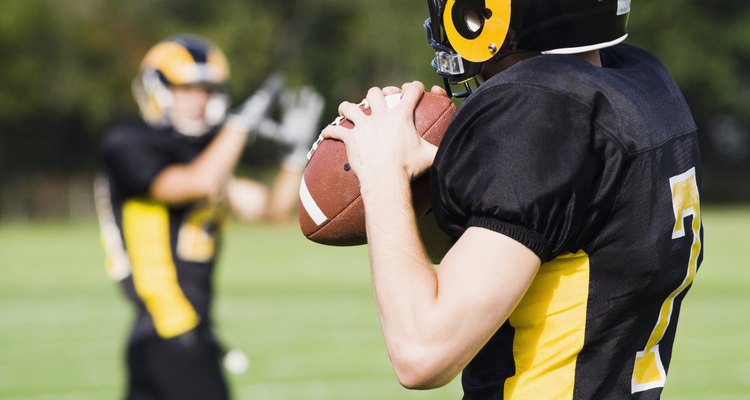 Purestock/Purestock/Getty Images
Rashes caused by football pads can range from transient redness of the skin caused by chafing to serious skin infections. Since football is a contact sport, it is associated with a high rate of skin infections. While most non-infectious rashes typically resolve on their own, see your doctor if you are concerned about a rash so that he can appropriately diagnose and treat the condition.
Heat Rash
Heat rash is a type of rash that occurs from exactly as the name suggests -- heat. Heat rashes are caused by the blockage of the sweat ducts in your skin. When this occurs, your sweat becomes blocked within these ducts, resulting in the formation of red, itchy bumps. Heat rashes are associated with hot environments, exercise and sporting equipment, such as football pads, that prevent sweat from evaporating from the surface of the skin. Most cases of heat rash can be treated by simply decreasing perspiration. Severe cases necessitate medical treatment with steroids to reduce inflammation.
Skin Chafing
Chafing of the skin can be caused by friction between your skin and football pads or even on the inside of your thighs. Over time, this repeated friction produces an irritated, red appearance to the skin and can sometimes even cause the skin to bleed. Chafing can easily be prevented by applying petroleum jelly or a lubricating balm to the areas of friction prior to playing football. Frequent application while playing may be required as well.
Acne Mechanica
Acne mechanica is a type of acne that commonly occurs in athletes and is caused by excessive sweating, occlusion, pressure or friction of the skin. For football players, this can occur from football pads as well as tight uniforms, helmets, straps or braces. Acne mechanica can be distinguished from other rashes by the appearance of blackheads, whiteheads or small red bumps with or without pus on the skin exposed to tight sporting equipment or clothing. Acne mechanica can be treated as well as prevented by showering after you finish playing football and wearing cotton shirts beneath your football uniform to absorb sweat and minimize the friction between your skin and football pads. When showering, a body soap containing salicylic acid should be used, which cleans away dirt and oil, and unclogs pores.
Skin Infections
Skin infections are prevalent among athletes who participate in sports involving direct contact such as football. According to the Minnesota Department of Health Fact Sheet, 10 percent of athletes on the sidelines are kept from playing due to some type of a skin infection. The culprits behind these infections may be bacteria, fungi or viruses, including impetigo, molluscum contagiosum, herpes simplex, ringworm, jock itch and MRSA.
When to See Your Doctor
See your doctor if you have signs or symptoms of an infection such as a rash that is swollen, red, warm to the touch, drains fluid or if you also have a fever, chills or sweats. Any athlete with a rash that drains fluids should not be allowed to participate in practices or games until the rash has resolved.
References
Writer Bio
Kimberly Rienecke started her career as a health and fitness writer by working for various websites. She is a certified orthopedic physician assistant and an ACE-certified personal trainer. She also holds a Bachelor of Science in biology from Towson University.
Photo Credits
Purestock/Purestock/Getty Images