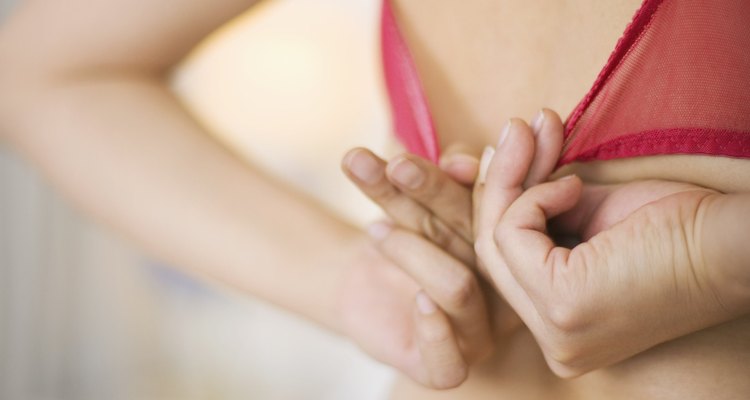 Jupiterimages/Brand X Pictures/Getty Images
Lingerie is often pricey and delicate, so don't just toss it in a drawer for storage. Whether you're caring for lace panties or a silk bra, properly storing your lingerie will help increase its lifespan. You can modify your storage techniques to fit the space you have, but follow some general tips for properly storing your delicate items to keep them in good shape for as long as possible.
Divide your lingerie drawers into compartments. You can buy a compartmental tray or inexpensive drawer dividers so you can divide the drawers however you choose.
Place lining in the bottom of your drawers prior to storing lingerie. A liner will help prevent fabrics like lace and silk from snagging on the wood inside the drawer.
Store various pieces of lingerie separately to make it easier to find what you need and to prevent items like bras from snagging on other pieces. Designate one drawer to bras and another drawer to panties and slips.
Roll underwear to store in your drawer, or lay them out flat and stack them. Fold the underwear in half, then start at the bottom and roll them up to the top. Lay the rolled underwear in rows in the drawer for storage. If you have quite a few pairs, stack the rolled underwear to save space.
Fasten the hooks on bras before storing. Lay underwire and padded bras flat in the drawer without folding if you have enough space. This will help maintain the shape of the bra. If space is limited, fold the bras in half with one cup tucked inside the other and the straps tucked inside the cups; take note that this may cause permanent creasing in one of the cups.
Roll slips and soft bras without padding or underwires prior to storing. Fold slips in half, then in half again and roll neatly. Lay the rolled slips in the drawer, stacking if necessary. Soft bras should be fastened, folded in half, then rolled up to store neatly in a drawer.
Hang lingerie items like baby-doll gowns, robes and chemises on padded hangers. Hang them in the closet, leaving enough space so they aren't crushed by other hanging items.
References
Writer Bio
Kimbry Parker has been writing since 1998 and has published content on various websites. Parker has experience writing on a variety of topics such as health, parenting, home improvement and decorating. She is a graduate of Purdue University with a Bachelor of Arts in organizational communication.
Photo Credits
Jupiterimages/Brand X Pictures/Getty Images