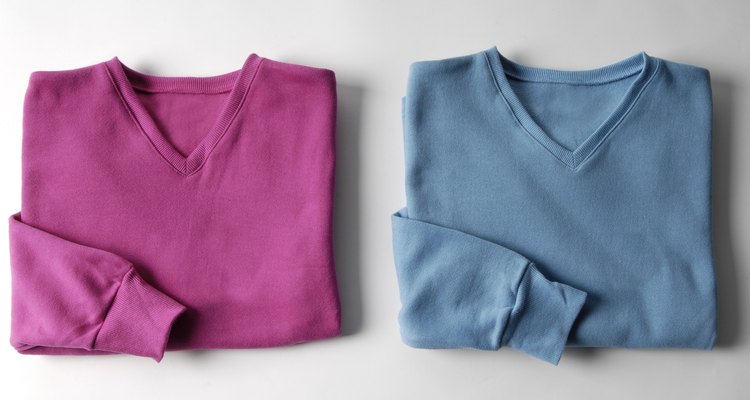 NAKphotos/iStock/Getty Images
Cashmere sweaters are a luxurious investment. With the proper care and storage, you can wear and enjoy them every winter for years to come. Learn ways to keep your cashmere looking its best -- and prevent fiber moths -- so that when the next autumn comes, your favorite sweaters are ready to wear.
Washing and Care
When you're set to put your sweaters away for the summer months, take the time to make certain they're ready for storage. Sweaters should be stored clean, either freshly hand-washed and dried or from the dry cleaner. Stains or odors are not only unappealing, but they can damage the fabric over time. Use a commercially available pill remover or sweater shaver to remove any pilling from wear.
Storage Basics
While getting your sweaters ready is essential, so too is getting your storage space ready. Clean the cabinet or drawer well, carefully removing dust or insect residue. Moths are the most significant risk to your cashmere and other fine woolens, but avoid moth balls, which contain a very strong pesticide. Instead, lay down fresh moth-repellent liner paper, or purchase fresh cedar blocks or beads to repel the pests.You may also store your sweaters in sturdy plastic storage containers or cloth storage boxes, but avoid cardboard, as it may draw insects.
Folding and Wrapping
To fold cashmere sweaters, lay the sweater flat on a table or other surface, with the front side facing down or away from you. Bring each side of the sweater inward, approximately one-third of the way. Fold the hem up to meet the shoulders. This is the best way to fold your delicate woolens for long term storage or everyday use. If you're storing them away for the summer, wrap the sweater in acid-free tissue paper. Stack sweaters in a drawer, cabinet or container.
Managing Moths
If your careful care has failed, and you have a moth infestation, place your cashmere into a zip-top plastic bag and store it in the freezer for a full three weeks. This is the life cycle of a fiber moth. Freezing will prevent further infestation. Thoroughly clean all areas where woolens were stored, and treat all wool fabrics in the same way. If you're especially worried, place a moth trap near your woolen and cashmere storage. Check it regularly and you'll know at once whether you have a problem.
References
Writer Bio
With a master's degree in art history from the University of Missouri-Columbia, Michelle Powell-Smith has been writing professionally for more than a decade. An avid knitter and mother of four, she has written extensively on a wide variety of subjects, including education, test preparation, parenting, crafts and fashion.
Photo Credits
NAKphotos/iStock/Getty Images