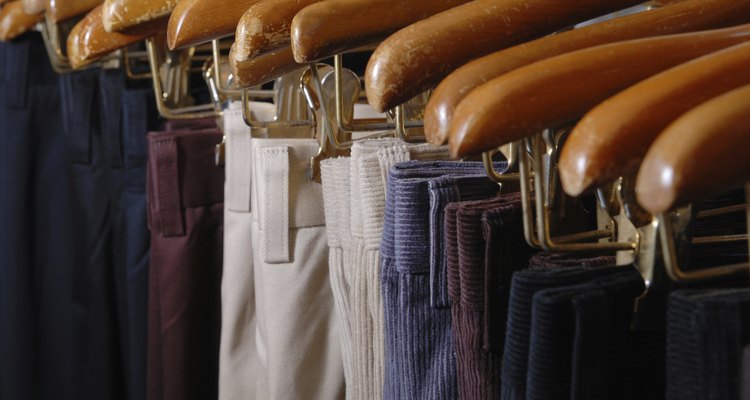 dangdumrong/iStock/Getty Images
Looking professional starts with the small things -- no wrinkles in your clothes, freshly laundered pieces and good grooming. Dress pants play a pivotal role in that professional appearance. The sheer number of hours dress pants hang in your closet require a few extra steps to keep these essential pieces looking smart for longer.
The Cloth
Dress pants come in a variety of weights and fabrics. Linen dress pants and those with a higher cotton percentage have a tendency to wrinkle much more deeply and quickly. Never fold these pants and place them in a drawer. Heavier wool and poly-blend pants can hold a crease and keep their shape much more readily. Prioritize the pants that wrinkle easily, and give them the closet space first.
Crease Control
Fold dress pants so the front crease remains intact. To keep that beautiful crease, fold the pants legs so they lay parallel, one on top of the other. The front crease of the pants legs and the center back of the pants legs should be the creased edges on the folded pants. Make sure the waist doesn't have any folds or creases before you clamp. If you have dress pants with no crease, they can be laid flat and folded over along the crotch seam instead. This step might require that you iron your pants before hanging them. Alternatively, hang them up right after you get them from the dry cleaners.
Hang Ten
Invest in some felt clamp hangers. The felt is gentle on fabrics and doesn't create any unwanted ridges or creases. Hold the dress pants by the waist after you have folded the pants legs with the crease. Clip the felt clamps evenly along the top of the waistline. Make sure the clamps are on each edge of the dress pants to keep the fabric taut at the top and to prevent sagging as they hang in the closet.
Straight and Narrow
You can also drape dress pants over the felt or rubber bar of a hanger. Once you have folded the pants, gently drape them over the hanger bar so the fabric hangs evenly over each side. Always invest in dress pants hangers, because wire and plastic can leave creases or dents in pants draped over the bar. The felt keeps the pants in place and reduces slippage while they hang in the closet. Keep pants away from direct sunlight or high temperatures to retain their color and quality.
References
Writer Bio
Sarah Vrba has been a writer and editor since 2006. She has contributed to "Seed," "AND Magazine," Care2 Causes and "202 Magazine," among other outlets, focusing on fashion, pop culture, style and identity. Vrba holds an M.A. in history with an emphasis on gender and fashion in the 19th century.
Photo Credits
dangdumrong/iStock/Getty Images