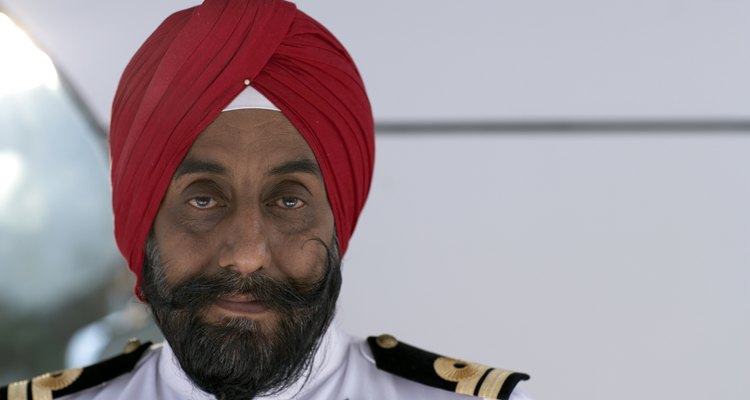 Yamini Chao/Digital Vision/Getty Images
In the Sikh religion, followers believe that keeping hair uncut demonstrates religious devotion. As part of this custom, it is forbidden to cut or shave facial hair. For Sikhs who adhere to this philosophy, it can be difficult to manage their beards in work situations. To address this need, products have been developed to temporarily restrain facial hair. One of the most well-known products is Simco Hair Fixer or "Fixo," a gel that sets hair in place. With Fixo and a few other items, you'll be able to manage your hair for professional situations without sacrificing your religious beliefs.
Put a generous amount of Fixo into your hand and use your other hand to apply it evenly to the outside of your beard. Your beard should already be damp but not wet. Use a small brush to spread the hair fixer throughout your beard. Work quickly to apply the product before it dries.
Place a small, dark, rubber band around your beard, directly under your chin. You can also tie the beard into a knot to secure it, instead of using a rubber band. Don't secure it so tightly that it causes pain.
Grab the loose part of the beard and roll it upward. Tuck the bottom of the beard into the top part, going from the underside of your beard out. Stick a hairpin into the beard to hold the tucked in part in place.
Brush the part of your beard that covers your chin. Use the brush to smooth down the gelled hair so that it stays firmly in place. When the beard is molded into the shape you want, tie a thatha or small piece of cloth around your head, so that the fabric covers your chin and jaw area. Use a hair dryer to dry and set the hair under the thatha. Wait five to 10 minutes before removing the cloth.
References
Writer Bio
Michelle Gordon has been writing professionally since 2004. Gordon has written advertising copy for clients such as Nestle, Safeway, BB&T and Hanes. She holds a Master of Science in advertising from Virginia Commonwealth University.
Photo Credits
Yamini Chao/Digital Vision/Getty Images