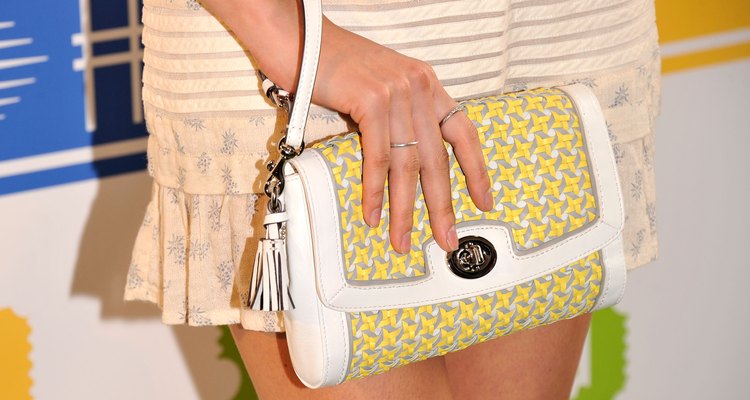 Stephen Lovekin/Getty Images Entertainment/Getty Images
Coach purses are not only a status item, they are considered to be quality handbags that last a lifetime. To hold this standard, Coach offers a certified repair service should your bag become damaged during use or due to factory defects. This repair service will evaluate your bag, make necessary repairs and in some cases offer a replacement or a credit voucher to replace irreparable bags. You can either mail in your Coach bag for repair, or bring it into a local retail store.
Send to Coach Directly
Fill out and print a copy of Coach's Repair Service Request Form, which you can find online. Include your credit card number or a personal check to cover return shipping and processing costs.
Pack the bag carefully in a box for mailing, with the form -- and check, if applicable -- tucked inside.
Mail the bag via the U.S. Postal Serice or UPS to: Coach Attn: Repairs One Coach Way Jacksonville, FL 32218
Insure the package in case it gets lost or damaged, if you wish.
Allow four to six weeks for processing and repair of your Coach bag.
Via a Retail Store
Bring the bag into your local Coach store for repair.
Fill out paperwork for the repair, and pay for return shipping and processing.
Transfer your bag to an associate, who will send the bag in for factory repairs or evaluation for replacement.
References
Writer Bio
A writer and professional lab assistant based in Seattle, Kate Bruscke has been writing professionally about health care and technology since 1998. Her freelance clients include "The Seattle Times," KGB.com, Reading Local: Seattle, Nordstrom and MSN/Microsoft. Bruscke holds a Master of Fine Arts from The School of the Art Institute of Chicago.
Photo Credits
Stephen Lovekin/Getty Images Entertainment/Getty Images