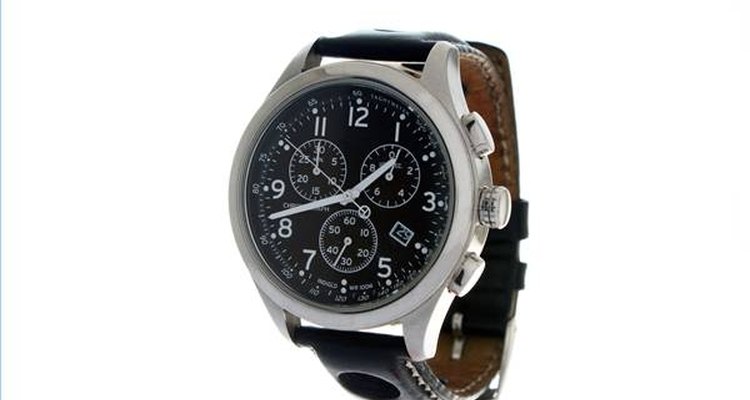 http://www.sxc.hu/profile/d-s-n
Fossil designs and makes clothing and accessories like belts, jewelry, sunglasses and watches. Fossil was originally based in Texas, but it now has stores throughout the United States. The Fossil brand also owns the Zodiac Watch company, as well as Relic and Abacus. Fossil was originally started in 1984 under the name Overseas Products International. Now, Fossil watches are sold not only in Fossil stores, but also in department stores worldwide. If you are having a problem with your Fossil watch, you can try to fix it yourself, bring it back to the store or send it to the company.
Change the battery. If your watch stops ticking, chances are the watch is not broken and the battery simply needs to be replaced. You can purchase a watch battery at your local department store or drugstore. Use the screwdriver to pry the back off the watch and place the new battery in the same place where the old one fit.
If your watch is still not working, determine the problem. If you can hear the watch ticking but the hands are not moving, there may be a gear stuck inside. If only one of the hands does not move, the hand itself could be broken. Once you determine the problem, you can see whether it makes more sense to purchase a new watch or get the old one fixed.
Check your watch warranty. If your Fossil watch came with a warranty that is not yet expired, Fossil will fix your watch if you send it to the company and pay for shipping and handling. See the "Resources" section below to fill out the Watch Repair Form provided by Fossil.com. If your watch strap is broken, however, Fossil will charge you a fee as broken straps are not covered in the warranty.
Check a competing local watch repair store. There are watch repair stores located all over the United States that will repair a Fossil watch if your watch is no longer under warranty or if you do not want to pay the shipping and handling to send the watch to Fossil's watch repair department. Although the watch repair store may not have the exact strap you are looking for, it may offer a replacement strap that is similar to the one that originally came with your watch.
Return the watch to the store where you bought it. If you purchased a Fossil watch that was broken when you purchased it or broke recently after you brought it home, you may be able to return the watch for a refund or store credit. Check with the store's policy before purchasing the watch if you are concerned about returns.
Writer Bio
Megan Smith has been a freelance writer and editor since 2006. She writes about health, fitness, travel, beauty and grooming topics for various print and Internet publications. Smith earned a Bachelor of Fine Arts in writing from New York University.
Photo Credits
http://www.sxc.hu/profile/d-s-n