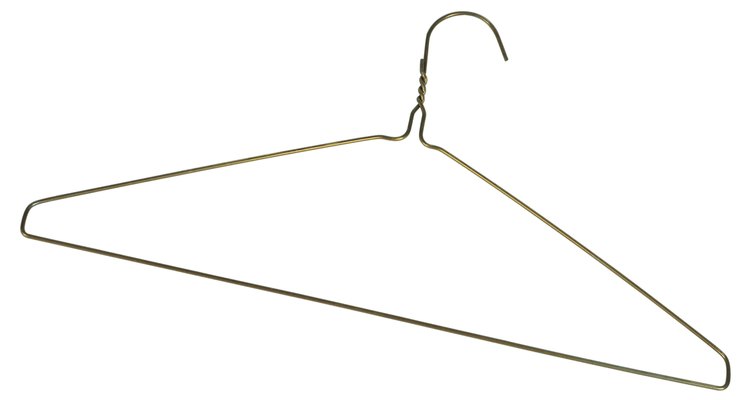 Comstock/Comstock/Getty Images
When you go to a restaurant with friends and family, it is so easy to enjoy the conversation and lose track of your purse. If you hang your purse on the back of your chair, you risk having someone take it without you even noticing; and if you put it down on the floor between your feet, you risk forgetting it when you leave. A handmade purse hook is fun and easy to make, and you will never have to worry about your purse in public again. With the decorative top of the purse hook in plain sight on the top of the table and your purse hanging from it under the table, you will never again forget your purse at a restaurant or public place.
Use the end of the wire cutters to flatten out the top curve of the hangers. The hangers will retain the first arch, then flatten out so it can rest easily on top of a table. You should have a round-edged 90-degree angle.
Next, measure 6 inches from the bottom of the hanger hook portion outward on each side and cut the wires.
Twist one side around so it meets the other side and they are aligned.
Using the end of the wire cutters, bend the wires downward at a 90-degree angle approximately 4 inches from the bottom of the neck. This will create a long, squared "C" shape. Then bend another 90-degree angle upward, 1 inch away from the first bend.
Do the same with the other two hangers.
Secure the three wires together by wrapping them tightly with the masking tape. Wrap the tape at an angle so that it overlaps itself as you wind around the wires.
Cover the wrapping with the fabric or ribbon repeating the same overlapping winding. Cut away any excess fabric or ribbon.
Glue the end of the fabric to seal the wrapping and hold it in place.
Hot glue your decoration to the top of the purse hook.
Writer Bio
River Lin is an independent writer and consultant. With a Master's degree in teaching English as a second language from Ball State University. She lived in Japan for 15 years teaching and editing. Now based in the US, she works for a variety of clients. Published work can be found in print and online at various websites and goarticles.com.
Photo Credits
Comstock/Comstock/Getty Images