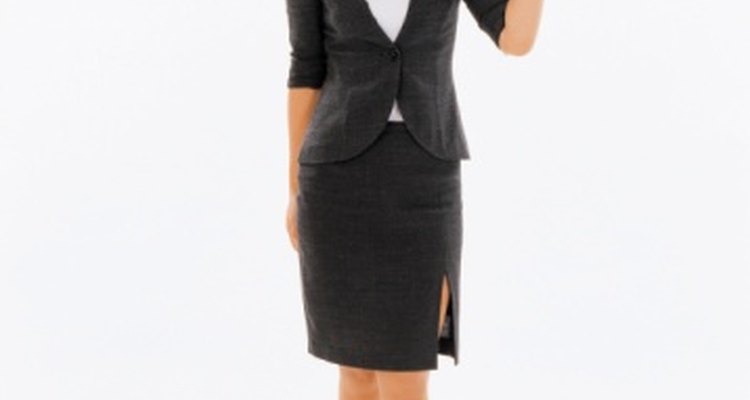 Photos.com/Photos.com/Getty Images
Petite women often are mistaken for being young girls due to their height. It is possible, however, to look more mature and even taller using clothes, hair and make-up. Always choose clothes that are fitted and modern, but do not look too young. Gather inspiration from magazines targeting your age group. If in doubt, try to dress like someone who is a couple years older than you are. If you are a university student, dress like a graduate or working professional.
Wear your hair in styles suited for adults, such as a bun or short, fashionable cuts. Wear your long hair in an up-do or don a short haircut can help you look taller by appearing to elongate the neck. Avoid hairstyles that look too cute or too edgy. Braids, ponytails, colorful barrettes and ribbons are too youthful for someone wanting to look more mature.
Apply makeup that is suitable for older women. Choose subtle shades that accentuate the face but aren't too pastel or bold, such as those worn by some teenagers. Choose to accentuate either your eyes or your lips, but not both.
Choose clothes that are fitted and don't cover your shoes. Baggy clothes make you look shorter and younger. Choose A-line skirts that are above the knee and shirts that come to the hip for work. Wear low-rise jeans that come just above the hips and complement your outfits with pointy toe or open-toe shoes and V-neck shirts. For dresses, look for shorter styles with empire waists to give the appearance of longer legs.
References
"Pocket Stylist"; Kendall Farr; Jan. 2004
"Dress to Express: Seven Secrets to Overcoming Closet Trauma and Revealing Your Inner Beauty"; Tracy Mcwilliams; May 2004
"Fashion For Dummies"; Jill Martin, et al.; Oct. 2009
Writer Bio
Shara JJ Cooper graduated with a bachelor's degree in journalism in 2000, and has worked professionally ever since. She has a passion for community journalism, but likes to mix it up by writing for a variety of publications. Cooper is the owner/editor of the Boundary Sentinel, a web-based newspaper.
Photo Credits
Photos.com/Photos.com/Getty Images