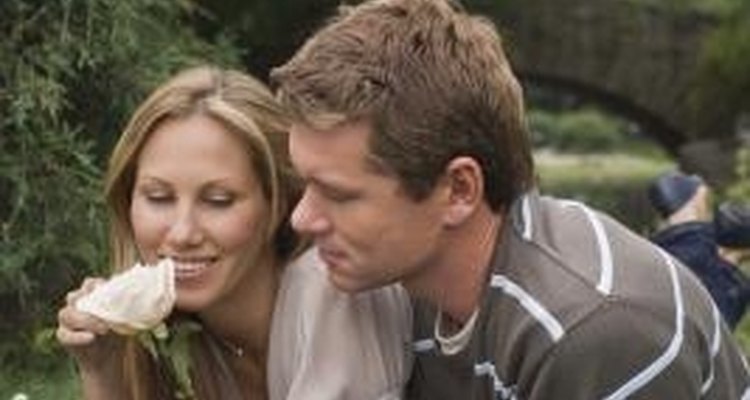 Jupiterimages/Comstock/Getty Images
Everybody deserves a good day away from studies, work or a hectic life to regain their sanity and remember they are appreciated. A good day can mean as much as two hours of enjoyment or a full day. Give your girlfriend a good day with thoughtful activities that relax her mind and allow her to enjoy herself. Spend time with your girlfriend throughout the day to create memories of your day out together. Surprise your girlfriend with a small token of appreciation and your time.
Surprise your girlfriend with a nice bouquet of flowers. Choose the flowers according to her personality and style. Women with a strong feminine side may prefer a bouquet of colorful roses. Girls with an artistic side may enjoy an exotic bouquet, or an exotic potted plant. Girlfriends with a soft, down-to-earth personality may appreciate wildflowers in a simple vase.
Accompany the bouquet of flowers with breakfast. Bring a live-in girlfriend a simple breakfast to her bedside, such as eggs, bacon and toast in the morning. Take your girlfriend out to eat breakfast if cooking is not your specialty, or if she lives somewhere other than your residence.
Plan an activity to do together throughout the day. Take lunch and bike ride to a nearby park for a small picnic. Walk around a local museum of art or history to learn new things and take in a bit of culture. Invite your girlfriend to shop at local boutiques in your city and grab a bite or drink at a small restaurant along the way.
Treat your girlfriend to dinner at a nice local restaurant and a theatrical performance or concert, if she enjoys entertainment. Spending an evening with your girlfriend in a public setting may be less stressful than spending time alone together. Your girlfriend may feel more comfortable expressing herself in public, giving you a chance to enjoy yourself as well.
Send flowers and gift certificates to a local spa if your girlfriend lives far away. Ship a small gift package to your girlfriend as well. Include a video of yourself, a small item that represents your relationship and photos of yourself alone, or with her, to show her she is in your thoughts. Also, include a letter or note letting her know that you miss her, or write a small poem on the page.
References
Writer Bio
Anya Meave is a freelance writer from San Diego, Calif. She began writing in 2009 for various websites. Majoring in telemedia, she has written scripts for student projects and has been chosen to submit a spec script for the 2011 Nickelodeon Writers Fellowship. Meave has an associate degree in photography from Southwestern College.
Photo Credits
Jupiterimages/Comstock/Getty Images