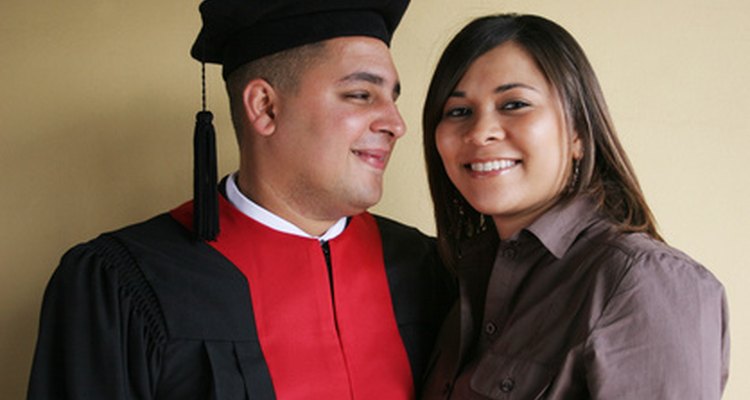 university graduation celebrates his graduation with his girlfri image by Gina Smith from
Fotolia.com
An associate's degree is awarded to a student after he completes a course of study at a two-year college. Earning an associate's degree is a significant achievement. Let your graduate know how proud you are of this achievement as you celebrate the occasion by giving him a gift. Choose one that will resonate with him and contribute to his continuing independence.
Health
Now that she is entering the work force, she won't be walking the campus or be as active during the day. Keep her trim with a membership to a gym or sign her up for a yoga class. Another option is a couple of exercise DVDs with a pair of 10-pound weights or good running shoes. A pedometer to record her steps and a calorie counter scale also work well.
Interview Outfit
Dress your grad for success. Schedule a day of shopping in which you help him find the perfect suit for job interviews. While shopping, point out the differences in fit, style, lapels and design. Look for a shirt that blends well with a suit and a tie and complements both. Other options include a shirt and tie set, a good-quality pair of leather shoes or a trench coat for inclement weather.
Luggage
Give her a set of luggage so she will look smart when she is on a business trip or vacation. Choose a durable, lightweight set with a good set of skate wheels. Look for a set with many pockets to hold her essentials, such as a waterproof pocket for her makeup kit or a large pocket for her shoes. Include a small carry-on bag to allow her to have one day's set of clothes with her when she reaches her destination.
Money
It's not glamorous, but a gift of money is always appreciated. If it is money he can spend or combine with other cash gifts for a larger one, put it inside a wallet or a card. However, if it is to be set aside to purchase a big-ticket item, such as a condo or a new car, you may want to put it into the bank or a CD account where it can earn interest until it is needed.
References
Writer Bio
Angelique de la Morreaux began writing articles for various websites in 2010. Her focus is in the legal, small business, beauty, holiday, culture, food, drinks and automotive categories. Morreaux holds a Bachelor of Arts in social sciences from San Diego State University.
Photo Credits
university graduation celebrates his graduation with his girlfri image by Gina Smith from Fotolia.com