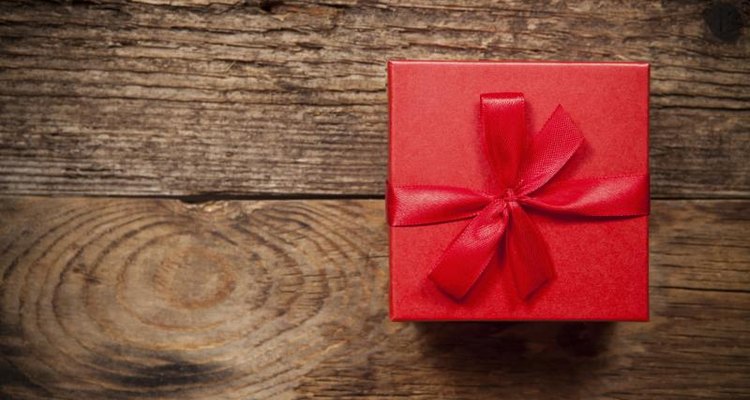 vadimrysev/iStock/Getty Images
Even though your marriage ended, you may still need to buy your ex-wife a gift or two for special occasions. While you aren't getting her those sweet little trinkets that she took so kindly to when you were married, a present for the holidays, a birthday or a major life event is occasionally in order. Choosing the right gift for an ex requires a delicate blend of consideration, caring and restraint.
Simple and Not Too Sweet
Whether you're giving your ex a gift because you feel obligated to or the two of you are trying to go from lovers to friends, keeping it simple and straightforward can take the confusion out of a post-split present. After a divorce, developing a friendship, or even a mutual respect, isn't easy and doesn't happen immediately. If you're in an in-between stage, avoid muddying the waters and opt for a simple gift that isn't in any way romantic. For example, get her a picture frame to fill with a photo from her recent graduation. Pretend that you're buying a gift for your boss or great-uncle. These are decidedly not romantic purchases and won't make your ex think that you're aiming for affection.
You Want Her Back
If the goal of the gift is part of a play to woo her back, you'll want to ditch the great-uncle presents and go with something much more loving. Winning back your ex isn't something that you can do with presents. That said, a gift can function as part of your plan. Show her just how well you truly know her and pick a gift that is meaningful. For example, your ex always wished that she could switch careers and follow her passion of professional painting. Buy her an easel and set of oils to show that you care about her needs. Another option is to choose a romantic gift that shows your sensual side, such as candles or a certificate for a couple's massage.
Gift Cards
A gift card offers a general way to give a gift to your ex without going overboard. If you're not looking to win her back, but still want to show that you care, choose a gift card from a restaurant that she enjoys, a store that she shops at or a service -- such as a day spa or salon -- that you know she likes. The amount of the card depends on your relationship and the occasion. If the two of you aren't close or the gift isn't for a major holiday, go with a lower dollar amount. On the other hand, if you're still tight or it's a momentous event, consider opting for a more generous amount.
Include the Kids
A post-divorce gift to your ex -- who is also the mother of your children -- may mean including the kids in on the act. Even though the gift is from you, have the kids help you shop for it and let your ex know that they picked it out. You can also give your ex-wife a gift that features the children. For example, make a photo book with pictures of the kids or frame portraits of them. Including the kids in the gift-giving process shows that they don't have to choose sides and that you and their mom can still communicate like adults.
References
Writer Bio
Based in Pittsburgh, Erica Loop has been writing education, child development and parenting articles since 2009. Her articles have appeared in "Pittsburgh Parent Magazine" and the website PBS Parents. She has a Master of Science in applied developmental psychology from the University of Pittsburgh's School of Education.
Photo Credits
vadimrysev/iStock/Getty Images