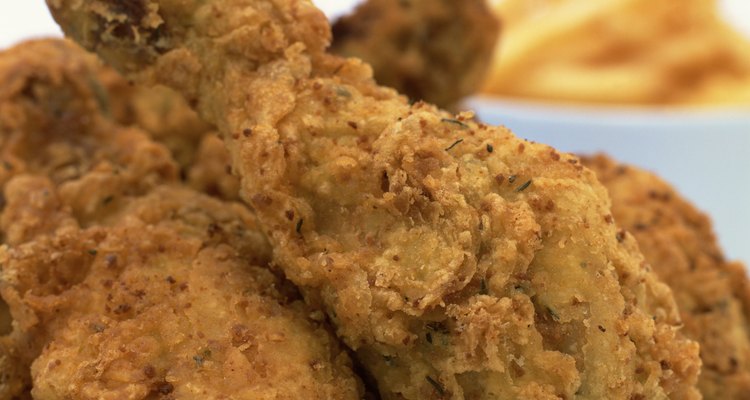 ITStock Free/Polka Dot/Getty Images
If your toddler or preschooler's egg allergies have you anxiously scanning the ingredients of anything and everything that your darling might eat, you're most likely driving yourself insane. One way to avoid full-on egg paranoia is to prepare wholesome meals at home, putting yourself in control of what your child eats. Although many fried chicken recipes traditionally call for egg in the batter, you can easily omit the egg and still produce crispy, delicious, home-cooked fried chicken. A word of warning, though, about those pesky (and dangerous) chicken bones in drumsticks and wings: Best not to give wings or drumsticks to toddlers, without removing the meat from the bones, for choking prevention.
Egg Substitutes
The purpose of the egg in traditional, fried chicken recipes is to ensure that the batter sticks to the chicken. If your child is allergic to eggs, you can easily substitute other items, to give you similarly sticky results. Buttermilk provides the same effect as egg, plus it offers a sweet flavor. Butter is another agent that will allow the bread crumbs to stick to the uncooked chicken flawlessly, and it can be combined with garlic (some little ones actually like garlic) or other spices to add flavor. Regular milk or plain yogurt will also do the trick. You can also just omit the wet ingredient, tossing the chicken with flour dashed with (a little) salt, some pepper or other spices.
Buttermilk Fried Chicken
Pour 1 cup of buttermilk into a shallow bowl. Cover the bowl and let the chicken marinate in the fridge for several hours or overnight. Although most children prefer sweeter flavors, you can always add 1/4 cup red hot sauce, 1/2 teaspoon cayenne pepper or a chopped onion to the marinade for flavor. Make your dry mixture by combining 2 cups bread crumbs or flour with just a pinch of garlic salt, a pinch of onion salt, and salt and pepper to taste. Drain the marinated chicken, roll it in the dry mixture and fry it in a pan of hot oil. Your children will love the crispy crust and mouthwatering chicken, and they won't say a word about the missing egg.
Garlic Butter Fried Chicken
Garlic and Parmesan cheese are two kid-pleasing flavors found in many favorites, like pasta or pizza. The butter takes the place of the egg by ensuring a sticky surface for the bread crumbs to adhere to. Dip chicken pieces into a mixture of 1/2 cup melted butter or margarine and 2 cloves of chopped garlic. Toss the chicken with 2 cups dried bread crumbs or flour, mixed with 1/2 cup grated Parmesan cheese and 3 ounces of french fried onions. Fry chicken in 1 cup or oil or shortening.
Simple Fried Chicken
When your child likes to eat simple flavors without extra spice or zing, a little flour will do the trick. Coat chicken with a mixture of 1 cup of flour, adding a pinch of salt, pepper, garlic salt or any other favorite spice, if desired. Fry chicken in hot oil. Other simple recipe ideas include dipping the chicken in milk or plain yogurt, then rolling in dried bread crumbs before placing in a hot frying pan.
Resources
Writer Bio
Dana Tuffelmire has been writing for DMS for three years. She taught elementary school for seven years and earned a master's of education degree with a specialization in literacy. She is currently a stay-at-home mom to two sons. Her dream is to one day write a children's book.
Photo Credits
ITStock Free/Polka Dot/Getty Images