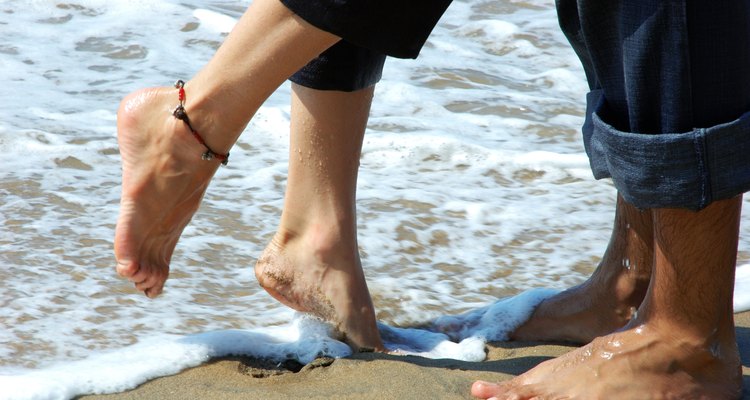 Visage/Stockbyte/Getty Images
Ankle bracelets, also called anklets, became fashionable in the U.S. in the late 20th century. Although they're trendy in the West, they have a history going back centuries to ancient Egypt and Southeast Asia. Perhaps because of these ancient associations, picking the appropriate occasions and outfits to wear with ankle bracelets can be tricky.
Appropriate Occasions
Ankle bracelets can be seen as sexually suggestive, and therefore it is not considered appropriate to wear them in professional or formal environments. Whether they're casual and chunky or elegant and chic, do not wear them to interviews, to the office or to dinner parties. They're most appropriate for casual, fun environments such as a pool party, lunch with friends or a trip to the beach.
Age
Perhaps because of their trendy nature, or maybe because of their sexual overtones, ankle bracelets are mainly worn by younger women. On older women, they are often viewed as tacky or over-the-top. Deborah Boland of the "Fabulous After 40" newsletter believes that ankle bracelets worn by older women can at best be silly and at worst trashy, evoking associations with "slave girls." Women over 30 might want to consider if ankle bracelets are age-appropriate before wearing them in public.
Type
There are many different styles of ankle bracelets, from chunky cuffs to delicate chains. What type a woman wears depends on her ankle: chunky anklets are best with slender ankles, while thinner anklets are more appropriate for thicker ankles. Under no circumstances should an adult woman wear an ankle bracelet that has bells or makes noise in public. Unless you're a belly dancer or dressing up as genie, this is considered tacky.
Clothing
Because of their unusual location on the body, ankle bracelets are only appropriate with certain types of clothing. Accompanying shoes should be simple, such as flats or sandals without an ankle strap. Ankle bracelets look best with shorts, capris or skirts, and should always be worn on bare legs, not under or over pantyhose. Finally, a woman can wear an ankle bracelet on either ankle, although most wear them on the right ankle.
References
Writer Bio
Natasha Brandstatter is an art historian and writer. She has a MA in art history and you can find her academic articles published in "Western Passages," "History Colorado" and "Dutch Utopia." She is also a contributor to Book Riot and Food Riot, a media critic with the Pueblo PULP and a regular contributor to Femnista.
Photo Credits
Visage/Stockbyte/Getty Images