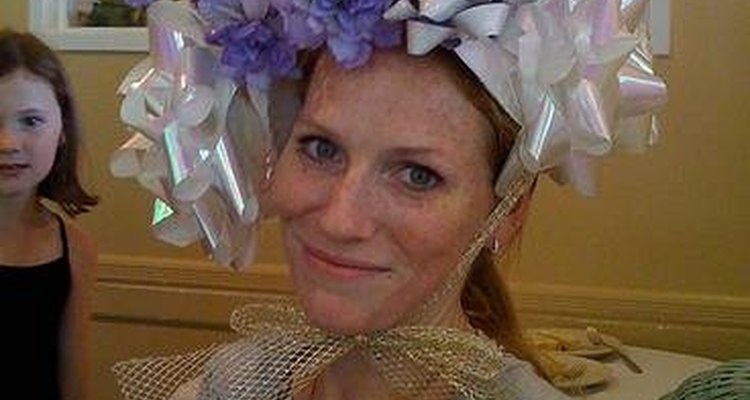 A bridal shower is a time-honored tradition and a means of providing the future bride with sound advice and useful gifts for married life. When planning a shower for a Christian bride, it is important to be respectful of her conservative values while still creating a memorable and fun event. Keeping a few guidelines in mind can ensure the perfect party.
Faux Pas
Christianity emphasizes the importance of purity in life. This being said, avoid hosting parties with lewd themes, strippers or other forms of eye candy. Moreover, most conservative Christians do not drink, so avoid hosting the party at bars or having drinking games that might make the bride feel uncomfortable. Even with these guidelines in place, the party can still be fun for the bride and guests with the right ideas.
Brunch or Tea Party
Depending on the number of guests attending the party, consider hosting a tea party. Use real table linens and plates to add a touch of elegance. If you have difficulty finding enough tea cups for all of the guests, ask each guest to bring her own. Then have her talk about her cup as an introduction game.
Encourage guests to dress up in hats and boas, and if hosting, consider having a "special" hat for the bride, perhaps made from ribbons and bows or with plenty of flowers. Games can include contests for the best hat or a tea and chocolate tasting. Door prizes can be gift baskets with tea bags, a cup and saucer, and a box of tea cookies.
Pool Party
Help the bride obtain her wedding-day tan by throwing a pool party barbecue. Serve grilled chicken or hamburgers along with plenty of water and cold sodas for the guests to enjoy. For a real treat, hire a bartender to make the guests "virgin" drink options to help cool down the party. As with any outdoor party, cake and ice cream is a perfect desert to end the party.
Traditional party games are always an added bonus to stir up some fun. Consider games that test the participant's knowledge of the bride and groom, or games that pose "what if" questions to typical marital situations such as doing the dishes or baking a chicken. To ensure that every guest leaves the party wet, have a "Diving for Diamonds" game where gemstones (available at any craft or dollar store) are placed at the bottom of the pool. Each color is worth a certain point value, and the person who finds the best gem wins.
Spa Day
Every bride needs a day to relax with her friends. There is no better excuse to do this than a spa day bridal shower. Prepare some pampering recipes ahead of time such as avocado masks, olive oil hair treatments and paraffin wax manicures, and serve plenty of water and herbal teas, along with the traditional bridal shower treats such as cake and nuts or a refreshing organic fruit salad to rejuvenate guests. End the event with a fashion show for the bridesmaids and guests to show off their refreshed look. An event like this is best planned for the afternoon, so participants can be sent home to greet loved ones with their renewed appearance.
Steak Night
Stag parties are not just for men. If the bride to be enjoys the nightlife, consider a steak dinner bridal shower. Take the bride and a few guests or the wedding party out to a local steakhouse and enjoy. If available in your local area, consider a dinner show restaurant. Just be sure to call ahead of time so the performers are prepared to honor the bride as well.
References
Writer Bio
Ann White is a freelance journalist with prior experience as a Corporate and Business Attorney and Family Law Mediator. She has written for multiple university newspapers and has published over 300 articles for publishers such as EHow and Garden Guides. White earned her Juris Doctor from Thomas Jefferson School of Law and a Bachelor of Arts in English literature.