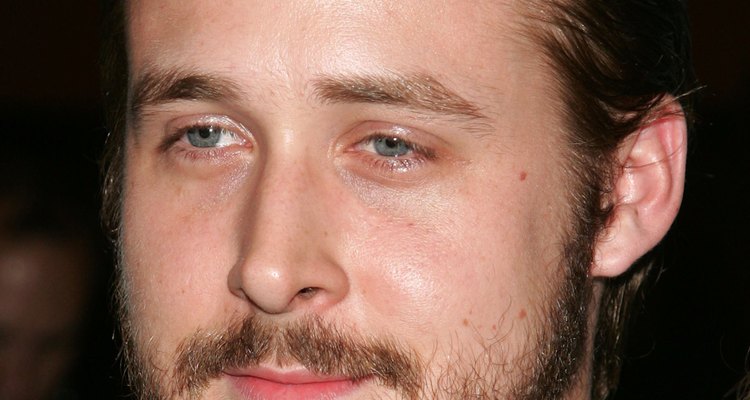 Peter Kramer/Getty Images Entertainment/Getty Images
Once you've made the transition from devil-may-care stubble to a legitimate short beard, you have to do a little regular maintenance to keep that sleek, detail-oriented look. The modern beard has evolved from being a sign of the untamed wild man to an indicator of stylish ruggedness, but it takes just a bit more work than most fashion statements -- for best results, you will need a simple beard toolbox of trimmers, razors and ointments.
Step 1
Comb your beard in the direction of its growth to tame stray hairs, then attach a 3-to-6-millimeter stubble guide or guard to your beard trimmer, or adjust the guard to this length. Evenly trim the entire surface of the beard, pointing the blade toward you and working in smooth, overlapping strokes that follow the lay of your beard. As a general rule of thumb, progress from the sideburns to the chin, starting from each side and working toward the center.
Step 2
Remove the guard or guide from your electric razor and point the blades downward along the edges of your beard to define its shape. Start under your chin, following your jawline, then define the upper edges of the beard by eliminating any hairs that stray onto your upper cheeks. Detail hard-to-reach areas, such as the border of your mouth, with a mini foil shaver for even more precise definition.
Step 3
Use moderate pressure to apply a rotary shaver in a consistent circular motion to the areas outside of your beard -- chiefly your neck and cheeks. If necessary, keep your neck free of unkempt hairs by doing a close shave against the grain using a razor blade and shaving cream with warm -- not hot -- water. This works especially well if you have a well-defined, square jawline. Consider a lower beard line if you have a rounder chin.
Step 4
Massage about six to eight drops of beard oil into your beard. Then, rub a small dab of facial moisturizer into your skin, focusing on the clean-shaven neck area. Repeat this process of trimming and maintenance every day or every other day.
Step 5
Apply a gentlemen's hair conditioner or beard wash to your beard while you're in the shower, just as you would a regular hair conditioner. Even short beards can get bristly and itchy -- regular washing helps to keep your beard soft, healthy and comfortable.
References
Resources
Tips
Start with a longer stubble guide or guard, then work your way down to shorter options until you find the optimal beard length.
Keep your razor clean, shake it free of water after each shave, and replace the blades every five shaves for a closer, cleaner finish.
Writer Bio
With a diverse professional background and a decade of experience as a freelance writer, Dan has contributed lifestyle content -- from fashion to travel to fitness and more -- to publishers including Chron, Fortune, Sony, GlobalPost, ModernMom, Moviefone, Salon.com, Techwalla and dozens of others.
Photo Credits
Peter Kramer/Getty Images Entertainment/Getty Images