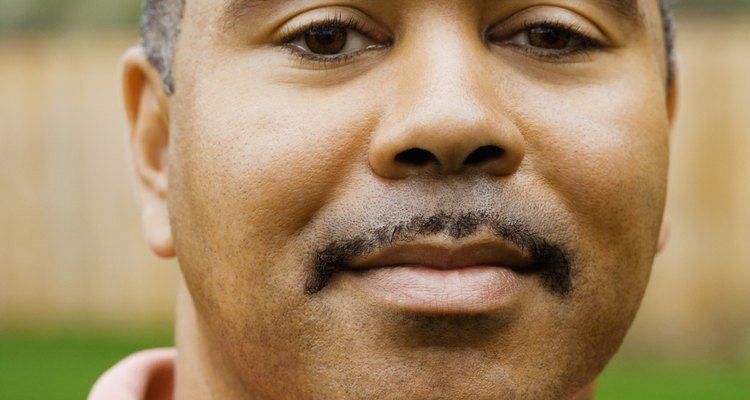 Jupiterimages/Creatas/Getty Images
Sporting a mustache takes confidence. There's the full-blown Tom Selleck super 'stache, Dr. Martin Luther King, Jr.'s iconic upper lip and Hulk Hogan's handlebar creation. But no matter what kind of mustache graces your face, make sure it's clean. One of the best ways to do this is during your daily shower. With a few simple products, mustache maintenance takes just minutes.
Step 1
Apply a pea-sized amount or smaller of shampoo or facial wash to your finger tips. Close your mouth and gently wash your mustache from end to end. Rinse with warm water. If your skin is dry and and dead skin appears in your mustache, use a dandruff shampoo. This helps to keep the hair looking supple and free from debris.
Step 2
Squeeze a drop of conditioner formulated for your hair type onto your finger tips. Work it into your mustache and leave it on for one minute. Rinse with warm water.
Step 3
Comb through your mustache immediately after showering. Apply a dab of hair gel or a mustache grooming product, if you like. Comb through one more time and air dry.
Step 4
Assess your mustache once a week by combing the dry hair downward. Use scissors to trim above your upper lip into the shape you desire. Start in the middle and trim to one side; reverse sides and trim up to the middle. Cut the length by combing through the hairs and trimming hairs on the outside of the comb.
References
Tips
Before bed, splash your face with cool water to eliminate any debris in your mustache.
Writer Bio
Based in Los Angeles, Lisa Finn has been writing professionally for 20 years. Her print and online articles appear in magazines and websites such as "Spa Magazine," "L.A. Parent," "Business," the Famous Footwear blog and many others. She also ghostwrites for mompreneurs and business owners who appear regularly on shows such as Ricki Lake, HGTV, Carson Daly and The Today Show.
Photo Credits
Jupiterimages/Creatas/Getty Images