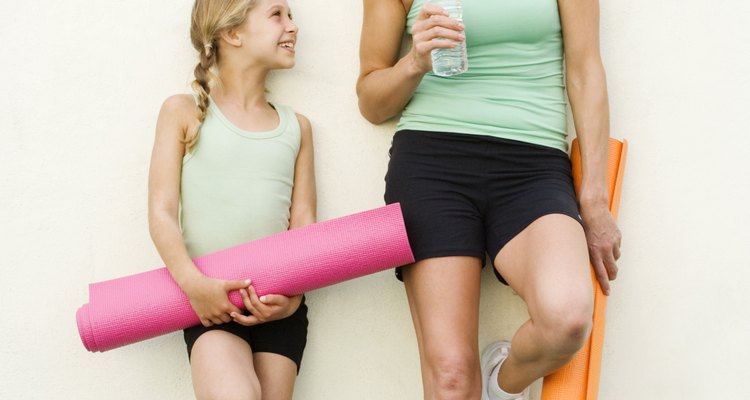 Polka Dot Images/Polka Dot/Getty Images
In 2012, there were more than 12 million single parent families maintained by mothers alone, according to the U.S. Census Bureau. If you're one of the many single moms in the United States, the pressure of raising your brood on your own can make it seem like you're more of a mommy-maid than the fun-loving girl that you used to be. Instead of feeding into the boredom that may accompany your single parent status, consider adding a few creative activities to your routine to bring a little fun into your life.
Participate in the PTA
If you're looking for a way to occupy either daytime or evening hours while still involving yourself in your children's lives, joining the school's parent teacher association or organization may fit the bill. When you become a member of a parent-teacher association, you'll meet other parents as well as teachers and get better connected with your children's school, notes the National PTA website. Whether you attend monthly evening meetings, join a committee, volunteer at the school bake sale or help out during a fundraiser, the PTA can offer a bored single mom a way to meet other single moms -- and possibly single dads -- who have similar social limitations due to childcare issues.
Dating Decisions
Starting a new relationship may seem like an easy answer to your boredom dilemmas. However, before jumping into a new romance, or even casually dating, consider your needs as well as those of your family. HealthyChildren.org, a website of the American Academy of Pediatrics, suggests waiting six months after separating from a spouse before dating to give your middle-year children time to adjust to the separation. Instead of running to a new relationship, consider alleviating your boredom with a group date out with friends. If you are dating, talk with your children about any new men in your life, allowing the kids a chance to express their feelings about your dates.
Night or Day In
If the daily drain of work, chores, cooking, homework and carpool have you down, mix things up with a special in-house family event. For a movie night with your kids, just pick up a DVD to everyone's liking and get out the corn for popping. For a more interactive night, try a board game marathon. Another option -- particularly if you have girls -- is to take some time to pamper yourself and your kids, creating an at-home spa.
Keeping Community
Keep in mind that you don't have to do single motherhood alone. If you need a break from your daily life with the kids, but don't feel like the married parents at your children's school or your married pals understand you, consider a single-mom meetup or support group. Cities and towns often have local single mothers or single parents meetup groups that provide emotional support and the opportunity to engage in recreational or leisure-time activities with others who are in a similar position.
References
Writer Bio
Based in Pittsburgh, Erica Loop has been writing education, child development and parenting articles since 2009. Her articles have appeared in "Pittsburgh Parent Magazine" and the website PBS Parents. She has a Master of Science in applied developmental psychology from the University of Pittsburgh's School of Education.
Photo Credits
Polka Dot Images/Polka Dot/Getty Images