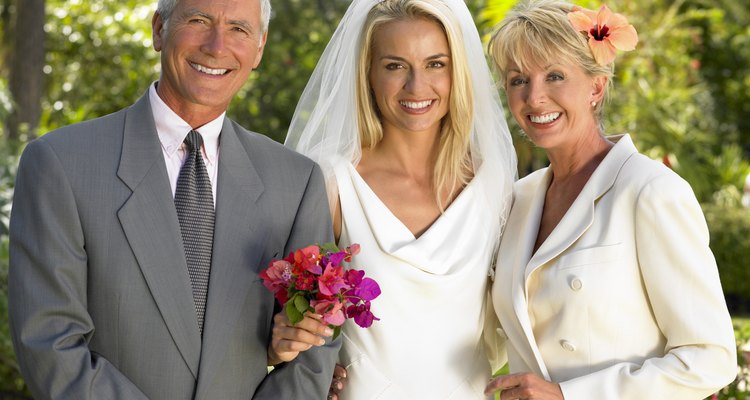 BananaStock/BananaStock/Getty Images
While the standard tradition is for the mother of the bride to wear a flower corsage, either pinned to her dress or around her wrist, there are alternatives that might suit your mom better. Maybe she doesn't like flowers or thinks corsages are annoying or old-fashioned. No matter the reason, tradition should never stand in the way of innovation. Make your mother comfortable and happy with some other options.
Flowers in Her Hair
Try a floral hair clip. Fasten a big flower to an alligator clip in the back of a bun or one big flower or several smaller ones clipped with bobby pins to one side. If your mom is allergic to flowers or wants something that will last as a keepsake for after the wedding, use silk flowers, which are an appropriate replacement to fresh ones.
Mother-of-the-Bride Bouquets
Give your mom her very own mini-bouquet for the ceremony. Tiny miniature roses or a little nosegay arrangement that she can set down after the ceremony will make Mom feel special without feeling old-fashioned.
Bags
Have your mother walk down the aisle holding an elegant clutch purse. Affix a fresh flower to the bag -- or even a silk one for a permanent look. This will give her something to hold that is stylish and also functional.
Leis
You don't have to get married in Hawaii for your mom to wear a lei of fresh plumeria or orchids to your wedding. Leis are garland necklaces strung with fresh flowers that represent love in Polynesian culture. Not only are they elegant, but they smell wonderful and can be dried and saved for years to come.
References
Writer Bio
Bonnie Crowe is a mother of two teenagers; a teacher and author of children's books, curriculum and articles on English grammar, literature, technology, art, parenting and career guides for high schoolers. She's a former director of AOL Parenting, a member of SCBWI, and a graduate from the University of California,Berkeley.
Photo Credits
BananaStock/BananaStock/Getty Images