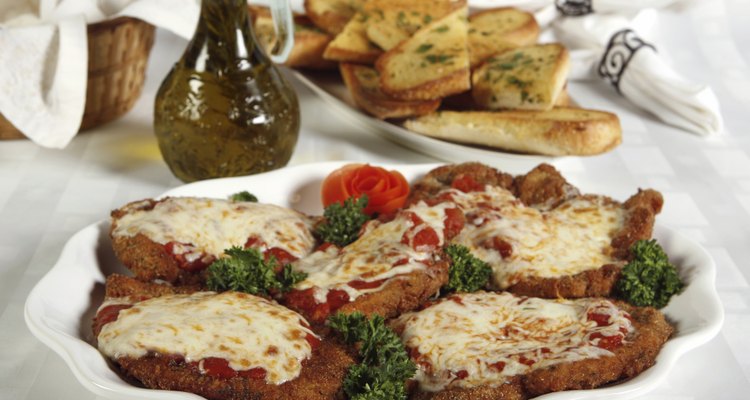 adlifemarketing/iStock/Getty Images
The Italian dish chicken Parmesan appears on restaurant menus across the country. Many versions of this classic recipe are high in fat, calories and salt, but you can make this traditional food at home in a healthier way. This chicken Parmesan recipe starts with frozen chicken cutlets rolled in breading and then baked with a hearty tomato sauce and calcium-rich Parmesan cheese. When paired with a fresh green salad, chicken Parmesan can become a guilt-free pleasure.
Preheat your oven to 350 degrees Fahrenheit.
Place breadcrumbs, Parmesan cheese, oregano, basil, garlic powder, salt and black pepper on one of the two large plates. Combine with a fork.
Crack the four eggs onto the other large plate and beat lightly with a second fork.
Coat a large baking dish with nonstick cooking spray.
Dip one chicken cutlet into the beaten egg using a pair of tongs.
Transfer to the other plate and roll in the breadcrumbs until the chicken piece is coated on all sides.
Place the coated chicken cutlet into the prepared baking dish.
Repeat this process with the remaining chicken cutlets, arranging them side by side in the baking dish.
Pour the tomato sauce on top of and around the coated chicken cutlets.
Sprinkle the chicken with the mozzarella and Parmesan cheese.
Bake the chicken for 45 to 50 minutes, or until the sauce is bubbling and the chicken is no longer pink in the center.
Remove the baking dish from the oven and cool for five minutes.
Transfer the chicken to individual serving plates using a spatula.
References
"Everyday Italian: 125 Simple and Delicious Recipes"; Giada De Laurentiis; 2005
"Mom's Updated Recipe Box: 300 Family Favorites Made Quick and Healthy"; Donna L. Weihofen; 2005
Writer Bio
Sara Ipatenco has taught writing, health and nutrition. She started writing in 2007 and has been published in Teaching Tolerance magazine. Ipatenco holds a bachelor's degree and a master's degree in education, both from the University of Denver.
Photo Credits
adlifemarketing/iStock/Getty Images