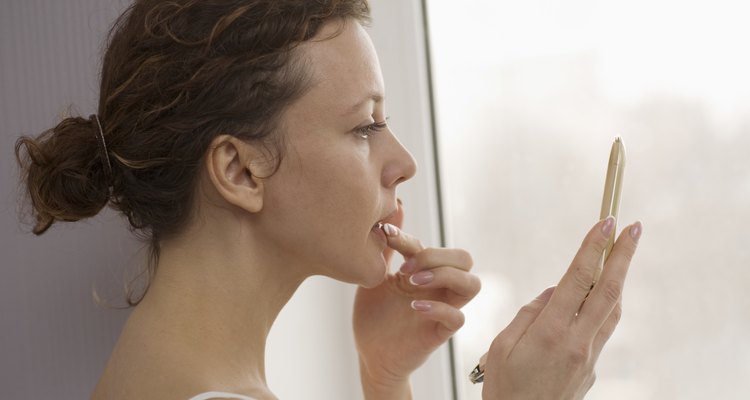 moodboard/moodboard/Getty Images
During puberty, male sex hormones called androgens can cause normally light colored hairs on your face to become dark, curly and coarse. This condition, called hirsutism, affects approximately 10 percent of women in the U.S., according to The American Society of Reproductive Medicine. The Nair Company provides two options for removing unwanted facial hair.
Nair Moisturizing Face Cream Hair Remover For Upper Lip, Chin & Face
Dampen your clean face with warm water.
Squeeze the cream onto the applicator that comes with your product. Spread in a thick, even layer over the area in which you want to remove facial hair. Do not touch or rub the cream into your skin.
Wait 8 minutes if you are using face and lip cream, or 3 minutes if you are using face cream, and then test a small area with a damp washcloth. If necessary, wait an additional 2 to 7 minutes, but do not leave the cream on your face for longer than 10 minutes. Use a damp washcloth and a gentle wiping motion to remove the cream.
Rinse your face thoroughly using only lukewarm water, and pat dry with a clean towel.
Nair Face Wax Strips
Wash your face using a mild soap and water, and pat dry with a clean towel.
Roll a wax strip between your hands to warm and soften, then divide the strip in half by gently pulling it apart, starting at the two corners. Pull slowly to ensure that you have an equal amount of wax on each strip. Fold one strip in half, wax to the inside, and put it aside.
Press the wax strip onto your face, following the direction in which your hair is growing.
Use one hand to pull your skin taut and the other to pull the wax strip away from your face in the opposite direction of hair growth.
Fold the wax strip in half, roll it between your hands and repeat this process until you finish facial hair removal. You can keep using the same strip numerous times and save the second strip for next time if you prefer. Use the towelette that comes with your wax kit to remove wax residue and soothe the waxed area.
References
Writer Bio
Based in Green Bay, Wisc., Jackie Lohrey has been writing professionally since 2009. In addition to writing web content and training manuals for small business clients and nonprofit organizations, including ERA Realtors and the Bay Area Humane Society, Lohrey also works as a finance data analyst for a global business outsourcing company.
Photo Credits
moodboard/moodboard/Getty Images