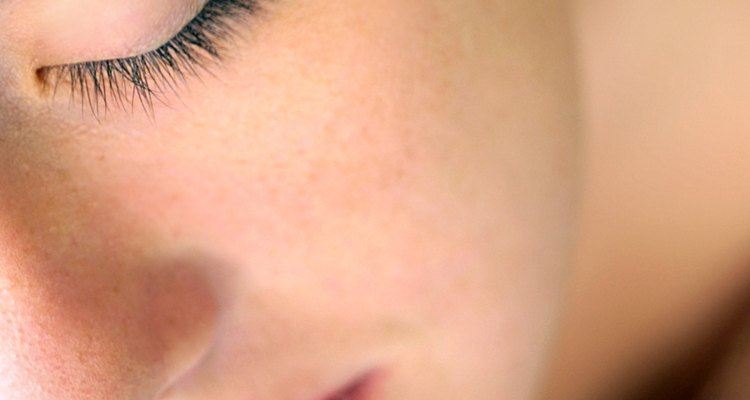 Thinkstock Images/Comstock/Getty Images
Women sometimes experience an unattractive growth of facial sideburns, which is not generally desirable. In order to properly remove the sideburns, consider waxing them for the quickest and cleanest way to remove the hair. The cost of going to the salon for a facial wax to remove sideburns can add up from visit to visit, which is why waxing these sideburns at your home is a cost-effective alternative and it can be completed in under five minutes.
Comb the hair on your head away from the sideburns. Use a hair clip to hold hair back or tie hair up.
Heat up wax for 10 seconds in the microwave. Stir vigorously for 15 seconds, and apply a generous amount of wax with a wooden popsicle stick to fully cover one sideburn in the direction of hair growth. This allows wax to grip hair thoroughly.
Place a wax strip over the waxed area immediately. Rub the wax strip onto the sideburn in the direction of the hair growth. Rub continuously for 15 to 20 seconds.
Remove wax strip quickly without hesitating. Grip the bottom of the wax strip, and pull up in the opposite direction of the hair growth. This should remove the hair from the sideburn cleanly with one movement. If there are a few hairs left, a tweezer can be used to gently pluck them. Repeat Steps 2 through 4 for the other sideburn.
Remove any leftover wax from your face. Rub aloe based gel over the affected area. This will soothe the skin after the waxing process. Pat the facial area with a soft dry towel to remove any remaining gel.
References
Writer Bio
Nicole Byerly has been writing since 2003. She has published multiple works that have appeared in "Campus Philly." Byerly is pursuing a Bachelor of Science in cybersecurity at Utica College.
Photo Credits
Thinkstock Images/Comstock/Getty Images