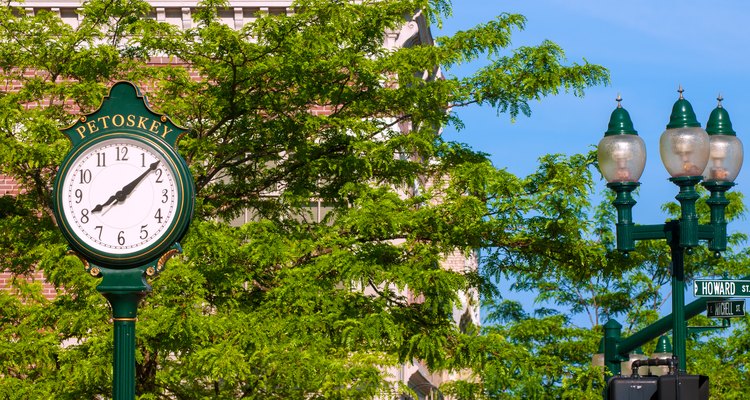 PapaBear/iStock/GettyImages
Nature Sets the Stage for Discovering Five Choice Attractions
The Lake Michigan coastal town of Petoskey, MI, has been a Midwest getaway destination for generations. Today, its stunning natural beauty and tourism expertise set the stage for contemporary adventures defining fun in the Mitten state.
Hunt for a Natural Treasure
Get hooked on trolling Lake Michigan beaches for Petoskey stones, a long-standing local tradition for children and grown-ups alike. Designated Michigan's state stone, these beauties are actually prehistoric fossils coveted for their intricate six-sided cell patterns. There's always a fresh supply as winter storms churn the lake bottom uncovering and washing ashore a new crop every year. Rock hounds experience success along Lake Michigan shorelines from early spring until the snow flies, but spring is the best time to fill your pockets. The region's top hunting grounds are Magnus City Beach (901 W. Lake St., Petoskey, MI) and the beach at Petoskey State Park (2475 Michigan Hwy. 119, Petoskey, MI). It's possible to stumble upon Petoskey stones along roadsides and landscapes decorated with native rocks. The fossils are most easily identified when wet, so experienced rock hounds keep a spray bottle of water handy to dampen suspected specimens.
Experience a Fusion of Fun
If you have just one day in Petoskey, there's no better place to experience its allure than Bayfront Park (101 E. Lake St., Petoskey, MI). The 25-acre city park hugs the shores of Little Traverse Bay in the shadows of Petoskey's historic downtown. Its pleasures are many: Get your beaching in, watch boats sail out into the big waters from the marina, picnic on the pier and be calmed by the gently lapping waves. Kids unwind and make friends at the playground, which features separate structures for youngsters 2 to 5 and 5 to 12. The kids-only stocked Lime Kiln Pond engages youth in learning the art of angling. Just a few steps away sits Little Traverse Historical Museum. Housed in a converted train depot that once welcomed throngs of tourists, including literary icon Ernest Hemingway, who summered in the area. Stroll the promenade that links the park to the Gaslight District where boutiques, galleries, restaurants and entertainment further showcase the town's enduring appeal.
Become a Fudgie
Northern Michigan visitors are known to locals as fudgies because of their addiction to sweet shops, like Kilwins of Petoskey (316 Howard St., Petoskey, MI). Established in 1947, Kilwins still handcrafts chocolates the old-fashioned way using the shop's original equipment. Watch the chocolatiers work their magic in plain view as they create to-die-for fudge using paddles on marble slabs. Schedule a weekday kitchen tour to see how truffles, caramel and brittle are made. Free samples top off the 30-minute demonstration. On hot summer days, Kilwins' homemade ice cream hits the spot. During the fall months, the shop is a favorite stop for hand-dipped caramel apples slathered in nuts, chocolate and candies. Whatever the season, Petoskey's sweet spot is a yummy destination.
Lean into Winter
There's no such thing as winter hibernation in Petoskey. While the town is near several of the Midwest's top ski resorts, Petoskey's free Winter Sports Park (1100 Winter Park Lane, Petoskey, MI) provides snowy fun without emptying wallets. Two ice rinks invite figure skating, hockey and curling fun. The downhill area attracts skiers and boarders. A sledding hill inspires thrills and spills accompanied by plenty of squeals. Arrive early in the day to take advantage of the limited number of available sleds and skate rentals. When everyone is skied and skated out, visit the warming house to catch your breath beside the stone fireplace. The city-operated park is open daily for winter fun from December through March.
Go Crazy for Maple
Let the kids—and yourself—indulge in a little sugary goodness at the family-operated Maple Moon Sugarbush and Winery (4454 Atkins Rd., Petoskey, MI). Claimed by its owners to be America's only maple winery, Maple Moon makes an art of the maple syrup business. Its concoctions tempt tasters of all ages. Each year, the farm's 5,000 tree taps yield 1,500 gallons of pure Northern Michigan maple syrup. Owners produce maple syrup aged in bourbon barrels, maple candies, maple root beer and maple ginger hard cider. Wines include the semi-dry Maple Cherry and creamy Maple Blueberry vintages. Check out the country-style tasting room where maple wines are paired with locally made artisan breads and cheese. Free tap-to-table tours take place daily at 4 p.m. Winter visitors are invited to bring snowshoes to explore Maple Moon's rustic trail.
References
Writer Bio
Sally Barber is a 20-year veteran of the publishing industry. A specialist in business, travel, sustainable tourism and the environment, she has written for Virgin Atlantic Airways, the "Detroit Free Press," "Great Lakes Seaway Review" and various websites. Barber is also the author of three books.