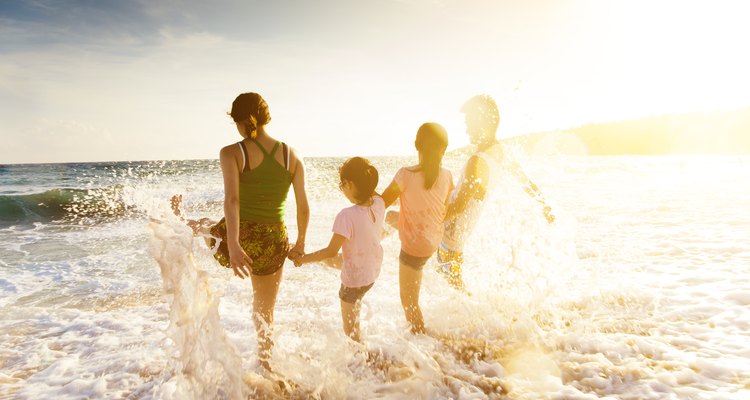 Tomwang112/iStock/GettyImages
Top Coast-to-Coast Destinations Made For Families
No matter the time of year, families long for a beach vacation: the simplicity of waves coming and going, children delighting in the sand and, maybe a touch of relaxation. While the U.S. has many beaches to entertain both adults and kiddos alike, there are five that make vacation enthusiasts want to pack their bags and get those time-off requests approved pronto.
Duck Beach, Outer Banks, NC
Far away from the bustle of the city, the pristine landscape of the Eastern North Carolina shores, better know as the Outer Banks, make beaches here a favorite among families. While not the most well-known, Duck Beach (Duck Rd., Duck, NC) is a top pick for vacationers who want some quiet time. Have a canine friend? This beach allows dogs off-leash. Water sports are big in the Outer Banks, and there are no shortage of rentals.
With no hotels, campgrounds or resorts in Duck, staying at one of the many vacation rentals will make you feel like a local. When you've had your fill of the beach, wander one of the nearby walking trails, explore the quirky gift shops or peruse local produce stands. Hit the sand dunes for some adventure (but remember, it'll be hot).
Best time to visit: Vacation rentals fill up quickly from June through mid-August when the kids are on summer break, so for lower rates, try a late spring break or even a Labor Day getaway. Vacation rentals are often laid out to host multiple families, so call your friends and split the cost.
Siesta Beach, Siesta Key, FL
With crystal clear water and white sand, Siesta Beach (948 Beach Rd., Siesta Key, FL) is the quintessential family beach destination. Go for the sun, but make sure to stay and watch the sun fall into the ocean, as it's one of the best sunset views around given its position on the Gulf Coast. With tidal pools galore, the kiddos will be sure to stay busy searching for creatures. If visiting from afar, there are umbrella and chair rentals as well as concession stands to make for stress-free planning. Nearby overnight accommodations include a variety of hotel options as well as campgrounds with stellar ratings. The Capri at Siesta (6782 Sarasea Circle, Siesta Key, FL) is a unique boutique-style resort with just 10 guest rooms equipped with kitchenettes and only steps from the beach. If camping is on the itinerary, check out Turtle Beach Campground (8862 Midnight Pass Rd., Sarasota, FL) for an under-the-stars experience. And the campground stands up to its name: Be on the lookout for loggerhead turtles roaming the beaches at night in June and July.
Best time to visit: It's no secret that Florida is always in beach season. In fact, however, summer months are just too hot for some travelers. November to May has the least chance of rain. To get the best deal, book a January holiday.
Coronado Island, Coronado, CA
Leave the mainland without leaving the mainland ... at least that's what it feels like when visiting Coronado Island (1100 Orange Ave., Coronado, CA). This island treasure is just a short ferry ride from San Diego (also accessible by car, but it's more fun to pretend otherwise). Plan an overnight on the island for two to three day stay to experience all it has to offer. Outside of the well-known Hotel Del Coronado or "Hotel Del," as it's known to locals, you will find pristine beachfront with a fascinating array of sand castles decorating the resort front. The beach itself is a mile and a half long, and the sand is as soft as it comes. But don't skip outside too quickly. This historic luxury hotel is a landmark itself. Take an hour to peruse the one-of-a-kind boutiques and restaurants on property. Once outside, rent a bicycle or go by foot to explore land, or rent kayaks or paddleboards to see the bay. Catch a rainy day? Visit the Lambs Players Theater (1142 Orange Ave Coronado, CA) and take in a show.
Best time to visit: While there's no shortage of sun in San Diego, temperatures (and therefore crowds) start to drop in late September. Opt for a fall getaway to get the best hotel rates but still take advantage of that Southern California warmth.
Coligny Beach Park, Hilton Head, SC
Shallow seas attract families to Coligny Beach Park (1 Coligny Vlg., Hilton Head, SC ). Parents can rest easy knowing the surf remains shallow for about 30 yards before reaching a three-foot depth. The low water is a child's dream, allowing for treasure hunts in the tidal pools, full of seashells to drop in the buckets of little beachgoers.
Keep those buckets handy because the white sand here is perfect to construct a row of sandcastles. With 12 miles of shoreline, even this popular area never seems crowded. Much like Disney, this beach community makes visitors feel as if in another world, with shops and restaurants and even a fountain for the little ones to play in.
Best time to visit: For milder temps, shoot for March through May or September through November. Since Hilton Head is a known tourist destination with no shortage of places to stay or eat, a little research helps snag some great deals for your vacation.
Willard Beach, South Portland, ME
Located on the banks where Casco Bay meets the Atlantic, Willard Beach (1 Fisherman Ln., South Portland, ME) has a real neighborhood feel. Changing facilities and restrooms are located on the grounds, and there's a small playground for the little ones. While the kids play, delight in the boats and ferries coming in and out of the harbor. Stretch your legs and walk to the north end of the beach onto a rock wall that leads over the ocean to Spring Point Ledge Lighthouse.
Best time to visit: Maine doesn't have much of a summer weather-wise. If swimming in the ocean is a must, try for late June through mid-September. Fortunately, Southern Maine is home to many beaches so while you might be sharing the sand with other beach-lovers, there will always be a spot for another towel or two.
References
Writer Bio
Erinne is a freelance writer living in Maine. Her work has been published by The Washington Post, New York Magazine, Prevention Magazine, Parents Magazine, Good Housekeeping, Chicago Tribune, Men's Journal and more.