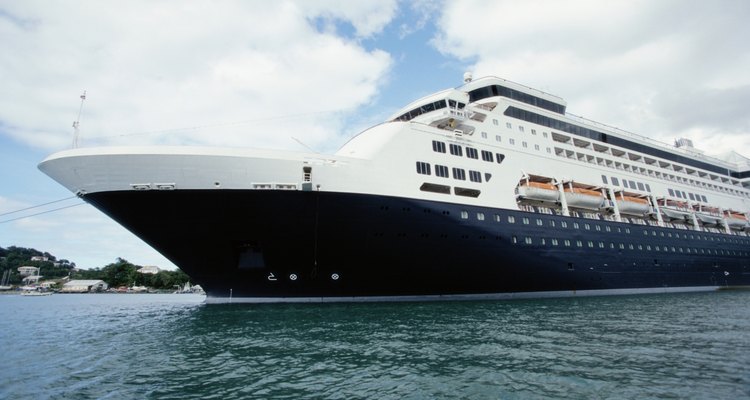 Steve Mason/Photodisc/Getty Images
Cruise formal nights can be ideal etiquette training for teens, but they require advance wardrobe planning so the teens are comfortable. Dinners may be traditionally formal or have semi-formal expectations depending on the cruise line. It's an elegant evening with special cuisine and plenty of family photo opps. Wearing something that shows personal style is important, and the formality of the occasion is key.
Pants
When cruises request formal wear there may be a service that provides formal wear delivery to the stateroom that is arranged in advance. Formal cruise dining wear for teen boys includes dress slacks with dress shirts. Jackets or suits are optional on most cruises, though they are definitely well suited for the occasion. A teen boy can also choose to wear a suit and tie or tuxedo.
A teen girl may wear elegant pants and a blouse. An evening wear suit with a light jacket is also appropriate. A thinner fabric top is generally dressier; blouses can be made of silk, satin, chiffon or a rayon blend for a flowy feel. Lining or under layers are necessary for formal occasions when the fabric is sheer.
Skirts
Elegant skirts and blouses, or a skirt suit, are considered formal for teen girls. More dressy than day wear, blouses can be softer fabrics over a skirt and accessorized to look classic with jewelry and nice shoes. No universal dress codes as to skirt length exist; however, each cruise line has its own standards which you should review with your teen. Evening formal teen attire is traditionally to the knee or tea length. Ankle and floor length are more appropriate only for older teens. Short cocktail skirts are acceptable on some cruise lines.
Dress
Dresses that are well pressed and lined can be worn in various lengths, to the knee or ankles. A prom-style evening gown can be worn if the rest of the party is also formal. Longer voyages often have the most formal standards, where a prom-type gown is ideal. Accessorizing with hair clips, earrings or necklace adds a finished look.
Not Permitted
Very casual attire is never permitted in the dining room during a formal dinner. The items not allowed include: jeans, shorts, capri pants, flip-flops or tennis shoes, tank tops, gym shorts, T-shirts, beach or bathing suit attire, sleeveless shirts for men, sportswear and baseball hats. All cruises have their own rules which should be reviewed.
References
Writer Bio
Paule McKenna is a celebrity makeup artist for print TV and film who began her career as owner of Los Angeles' first makeup studio. She has a makeup line and enjoys writing, marketing and real estate at the beach.
Photo Credits
Steve Mason/Photodisc/Getty Images