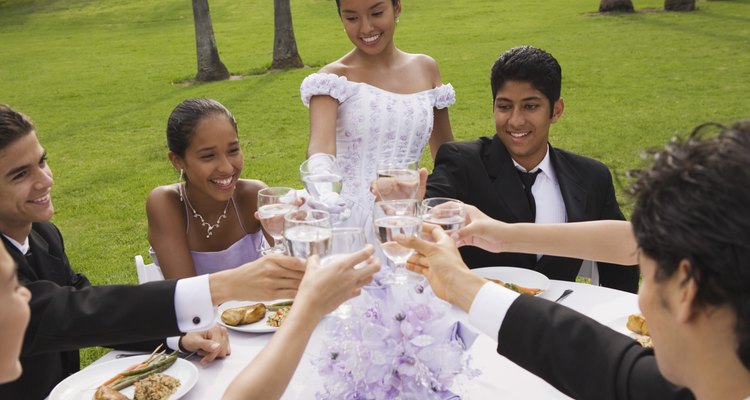 Jupiterimages/Brand X Pictures/Getty Images
Most Latin cultures take pride in celebrating traditional festivities. Young girls, referred to as "quinceañeras," look forward to celebrating their 15th birthdays. The young lady asks a date or escort, referred to as her "chambelan," to accompany her throughout the event-filled party. This once-in-a-lifetime birthday event has influenced party dress designers to create traditional and theme dresses, as well as coordinating outfits for a quinceañera's special guy. Once the quinceañera has chosen her event theme or style with her parents' supervision, she can also select coordinating outfits for her "damas" and "chambelanes."
Quinceañera and Her Damas
A quinceañera entertaining at a large birthday gathering usually chooses close family and friends to be part of the court. These young ladies are referred to as "damas." Since the quinceañera generally coordinates her dress with the main theme color, the damas wear dresses in complementary colors. If the quinceañera wears white, the damas' dresses match the main theme color. A quinceañera might choose a special young man to escort her; he is referred to as a chambelan. As an alternative, "cadets" -- young male teens trained in party etiquette and choreographed dance routines -- are available to rent as escorts for the damas as well as to perform special dance routines. Cadets generally wear matching outfits to coordinate with the rest of the event.
Chambelan and Chambelanes
Whether you choose a boyfriend, family member or neighbor, the chambelan -- the "chambelan de honor" (chambelan of honor) -- is responsible for escorting you throughout your birthday event. Although tradition does not require that damas have dates for the evening, big birthday bashes generally include chambelanes, who are generally family members and close friends. Coordinate the damas' dress color with the chambelanes' tuxedo accessories. For example, for a traditional quinces theme, coordinate bow ties and cummerbunds in the same color or fabric as the damas' gowns. Remember to check the cost and exact delivery date for special orders with the tuxedo rental office.
Coordinating Quinceañera and Chambelan Outfits
Traditionally, most quinceañeras wear white ball gowns with crinoline underneath to add volume to the sweep; they also wear coordinating gloves. Pastels are an acceptable alternative to white. The quinceañera generally also has other accessories as part of the festivities, such as the quinceañera doll, kneeling pillow, cake knives, toasting glasses and tiara. For a casual backyard quinces, chambelanes can wear ties and vests that match damas' gowns. Mix the casual theme with tradition by including choreographed entrances. Traditional themes generally include a special song dedicated to the parents of the quinceañera. The song is played as both parents or guardians enter the venue. Select another special song for your special entrance with your chambelan.
Coordinating Damas' and Chambelanes' Outfits
Traditional quinces usually include 14 damas and 14 chambelanes. Seven damas and seven chambelanes are also appropriate, and a more budget-conscious option. Select a color scheme for the court, keeping in mind a specific theme if you have one. For example, if you choose a fairytale theme, your damas might wear soft blue, and the chambelanes can wear soft or dark blue for the bow ties and cummerbunds. Event coordinators often include theme related accessories -- hats, canes and gloves -- that the court carries into the quinces party.
References
Writer Bio
Mercedes Valladares is the founder of M721Organics and has been an independent designer for over 15 years. Her work experience commenced during college with manufacturers based in New York and Hong Kong. Her education includes LIM College, International Fine Arts College and design certification from the Paris Fashion Institute. She produces eco-crafting videos and writes recycling articles online.
Photo Credits
Jupiterimages/Brand X Pictures/Getty Images