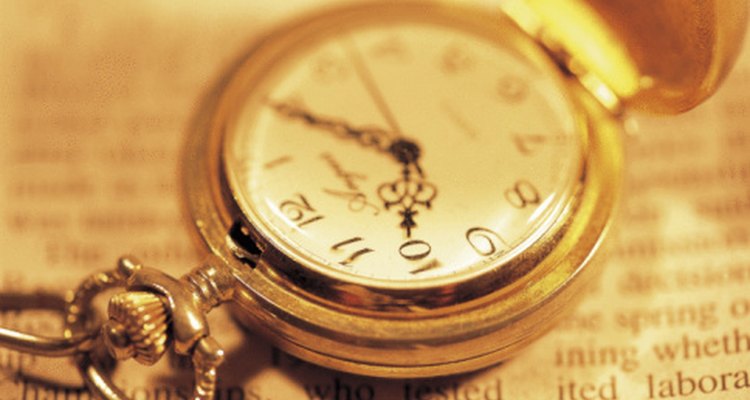 Jupiterimages/Photos.com/Getty Images
Watch engraving has been done for hundreds of years. In bygone eras, a simple monogram allowed the owner of the watch to prove it was his or served as a reminder of the person who gave it to him. That reason holds true today, but there are now endless possibilities for what to get engraved on your watch or a watch you gift to someone. The first step in your decision-making process is to find out your engraving options, such as font, size and the maximum number of letters or numbers that will fit on the watch.
Personal Sentiment
An advantage to watch engraving is that the engraving is done on the back of the watch face. This means that it can be a private message as only the wearer is likely to see it. Depending on who the watch is being given to, the size of the watch is the limit as to what can be said. Some common engravings between partners are "A perfect fit", "Eternally yours", "Now and forever," "From this day forward ... " and other sentiments that express eternal love. Some couples choose to infuse humor with their sentiments in statements like "You wore me down," "You are SO mine" and "Keep it real." When trying to decide on an engraving, think of what you and the person have shared together. Is there a reference to a mutual joke, a favorite song or a memorable occasion?
Quotes
Many people love the classic quality and reference to history that famous (or obscure) quotes from well-known individuals impart. There is an endless supply of quotes listed online, available for view for free. There are many quotes that are just a few words and would fit nicely on a watch. "Carpe diem," for example, is "Seize the day" in Latin. "Vene vidi vici" is Latin for "I came, I saw, I conquered." Quotes don't have to be in another language. Think of one of your favorite persons from history, or if the person you're giving the watch to has one, and look up quotes from them. Someone who works in the field of Physics or has admiration for Einstein might appreciate simply, "E = MC2". It's also not uncommon for Christians to get the book, chapter and verse number of a favorite Bible quote engraved, for example, "Matthew 9:16."
Dates
Possibly the simplest engravings is a meaningful date. Six numbers can pack a big punch when they mean something special to the wearer of the watch. Important dates include anniversaries, birthdays, christenings and graduations. The date that the watch is given to the recipient is also an option. Sometimes a special date doesn't fall on a typically recognized celebration or holiday. Dates of proposal and even the signing of lucrative business deals can be meaningful, as well.
Sonnets
For romantic partners, lines from one of Shakespeare's or another poet's sonnets are romantic gestures. Examples include "How do I love thee ... " or "To me fair friend you never can be old, For as you were when first your eye I eyed, Such seems your beauty still."
References
Photo Credits
Jupiterimages/Photos.com/Getty Images