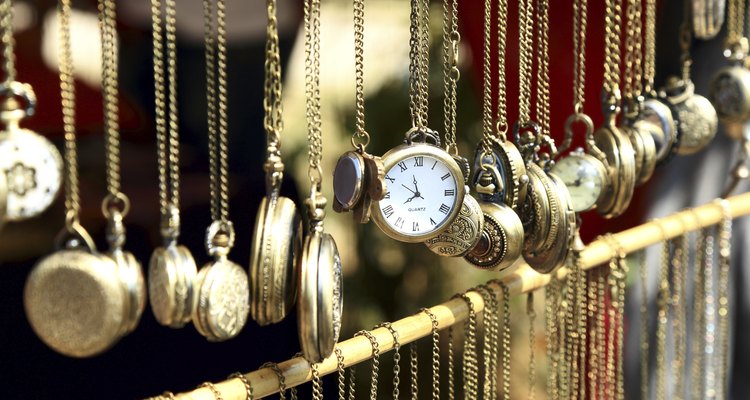 Ferumov/iStock/Getty Images
Whether for your anniversary or a special holiday, adornments are commonly exchanged as presents between partners in a loving relationship. Engraving loving and personalized messages on a watch makes more a one-of-a-kind gift that will have your sweetheart thinking of you frequently throughout the day.
Dates of Significance
Engrave an important date as a reminder of a special moment in your relationship. A day of love, such as an anniversary, signifies the time when you both committed to each other, according to psychiatrist Mark Banschick in the Psychology Today article "The Fire of Love." A wedding or relationship anniversary date engraving can remind you both of the day your love for each other reached new heights and new depths. Or perhaps engrave the date you first met or shared your first kiss. Alternatively, consider engraving birthdays. Perhaps both your birth dates or the birth dates of children you share.
Words of Love
Telling each other, "I love you," is probably a part of your daily routine. Regardless of your relationship stage, you should never stop telling your partner of the loving feelings you have for him, according to psychologist John M. Grohol in his Psych Central article "8 Ways to Ruin Your Relationship." Engrave a creative expression of love on your watches. Consider a quote about love from your sweetheart's favorite writer. Alternatively, a love-song lyric is an option. Or get "I love you" engraved in a different language, perhaps pertaining to your cultures -- think Spanish or Italian.
Terms of Endearment
The names you and your significant other use for each other can serve as a fitting engraving on your watches. Having pet names may appear to be quite silly, but this practice is, in fact, a normal part of a romantic relationship, according to neurologist Richard E. Cytowic in the Psychology Today article "Terms of Endearment." Consider the personal nicknames you have for each other -- perhaps "cupcake" or "my hot stuff." For a different option, engrave names of couples from popular culture that remind you of yourselves or of your relationship; for instance, "We'll be Lucy and Ricky for life!" Or simply engrave your initials in a heart.
Timeless Expressions of Love
Phrases that reference time can be quite suiting as romantic engravings, since quality time together is essential in your relationship and time can seem a very limited commodity for partners in love. Consider a saying about a specific time. For example, "Let's kiss when the clock strikes midnight." Or use a phrase about how there is no time limit for your love. Perhaps "Our love is timeless" or "I will love you until the end of time."
References
Writer Bio
Wannikki Taylor is a professional writer with a Bachelors of Arts in journalism from Temple University. She serves as a children's columnist and covers family entertainment for several print and online publications. She specializes in games, crafts and party planning ideas for kids and their families.
Photo Credits
Ferumov/iStock/Getty Images