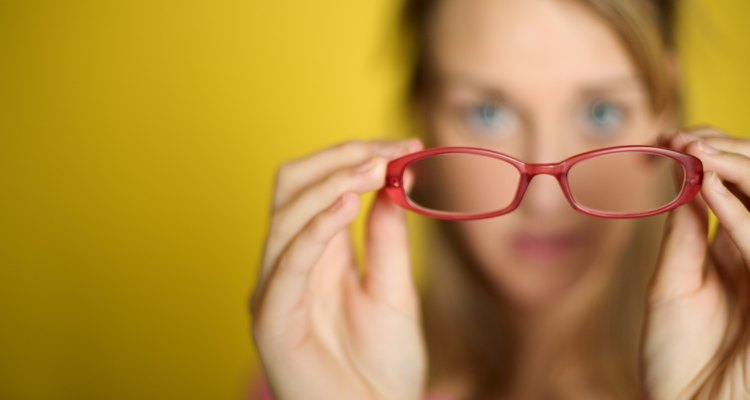 Jupiterimages/liquidlibrary/Getty Images
If you have a pear-shaped face, sometimes called a triangular face, the lower half of your face is significantly wider. Your jaw is rounded, and your forehead is narrower than your chin. Think of celebrities like Eric Bana and Julia Roberts. If you wear glasses, your best bet is to choose styles that add width to the upper part of your face.
Cat-Eye Frames
Cat-eye glasses are flattering for pear-shaped faces, as they elongate the upper portion of the face. Because this style angles outward at the upper corners, it draws attention away from your wider chin — especially if you choose frames that have color or embellishment, such as small rhinestones, at the upper corners. Cat-eye styles are assertive and trendy, however, so they're not for shy types.
Aviator-Style Frames
Aviator-style glasses are simultaneously classic and of the moment. Pear-shaped faces look attractive in aviators, partially because many aviator-style frames have a brow bar, which connects the two halves of the glasses slightly higher than other styles. The brow bar draws attention up toward the forehead, away from the chin. Aviator sunglasses are especially chic; try glasses whose tint darkens when you're outside.
Rectangular Frames
Rectangular frames slightly wider than your temples will give your pear-shaped face a balanced appearance. Choose glasses that are longer horizontally than vertically to create the illusion of a wider forehead. Black or tortoiseshell frames are especially flattering in rectangular glasses. This style is extremely classic and versatile, and it can complement a variety of looks. Try rectangular glasses in a fun color if you feel like something different — red, for example.
Semi-Rimless Frames
Folks with pear-shaped faces can get in on the rimless trend too, although wearing semi-rimless glasses can play up the top portion of your face, making you look more balanced overall. Try frames that have a rim at the top and are rimless the rest of the way around. As with other styles, the frames should be slightly wider than your temples.
References
Writer Bio
Naomi Baldinger began writing professionally in 2007. Her areas of expertise include cooking, literature, film, Jewish culture, the nonprofit sector, education and translation. Her work has appeared in "Git Nu" and "The Journal of Jewish Identities" among other publications. Baldinger holds a Master of Arts in comparative literature from the University of California, Los Angeles.
Photo Credits
Jupiterimages/liquidlibrary/Getty Images