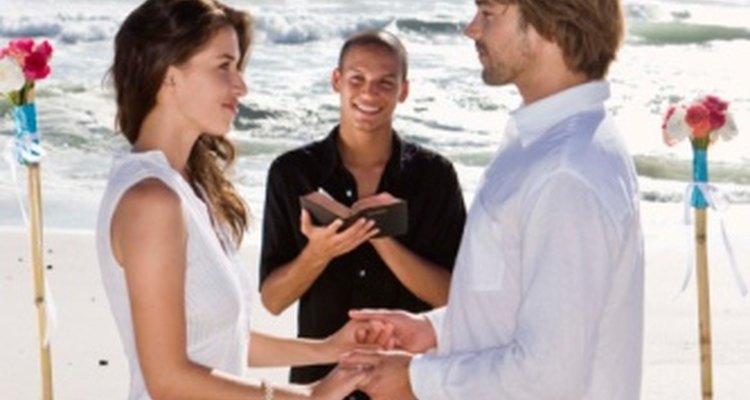 Jupiterimages/Polka Dot/Getty Images
Wedding officiants set the tone of the wedding day. So often the bride and groom give the officiant a thank you gift for making the day special. Since the bride and groom usually pay a fee to the officiant, the gift does not have to be expensive. It is customary to give a small and meaningful gift to the officiant.
Monetary Gifts
Many couples pay for any travel the wedding officiant has as well as a tip. If your officiant charged a fee, a tip between $75 and $350 is appropriate, according to Wedaholic and HudsonValleyWeddings.com. If your officiant did not charge for his services you may want to give him a little more of a tip. If your officiant is a member of the clergy, he may be more comfortable accepting a donation for his organization. These tips should be given with a card prior to the ceremony.
Gift Certificates
Gift certificates are also a thoughtful way to tip the officiant at a wedding. Restaurant or gift certificates to stores that are close to where she works are usually the best option. If you are not sure what restaurants or stores your officiant may like, an American Express, Visa or MasterCard gift card gives the officiant the option to use the card wherever she enjoys.
Personal Gifts
Personal gifts for your wedding officiant are appropriate if you know the officiant well. Something meaningful such as a piece of jewelry or a watch are appropriate. You may also choose to buy your officiant something he enjoys in his spare time. For instance, if he is a football fan, you may get him tickets to a game or a jersey for the team he likes. When you speak to the administrative assistant you may want to ask what the officiant's hobbies are or if he is clergy you may get an idea from his sermons.
Flower Arrangements or Gift Baskets
Flower arrangements and gift baskets are also an easy way to say "thank you" to your wedding officiant. These can be creative as well, but it helps to know if your officiant has a sweet tooth or a green thumb. There are gift baskets for just about every interest, such as Kosher gift baskets, wine and cheese gift baskets, candy gift baskets and sports-oriented gift baskets.
References
Writer Bio
Maria Woehr is a journalist with over 10 years of professional writing experience. She started editing in 2006 and has been published in "The Westfield Leader Times," "Insurance & Technology Magazine," "InformationWeek," "Positive Thinking Magazine," "Go Magazine," "The Deal," "The Financial Times" and many other outlets. She is a graduate of Boston University and has a master's degree from Drew University.
Photo Credits
Jupiterimages/Polka Dot/Getty Images