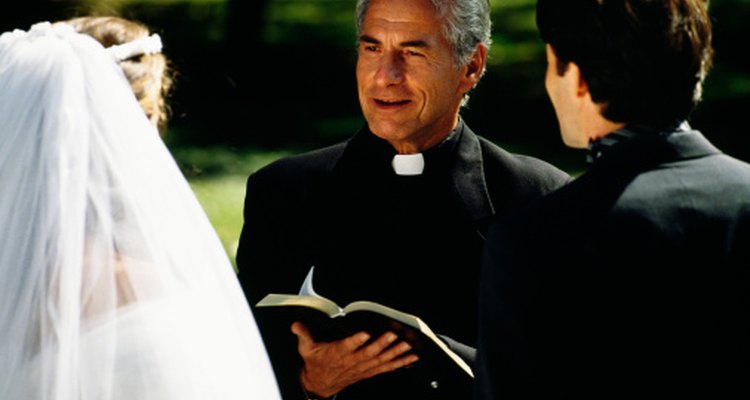 Jupiterimages/liquidlibrary/Getty Images
There is a distinct separation between church and state in the United States. No one governing body dictates an ordained minister's ability to perform marriages in a specific state. Each state treats this official status differently. An ordained minister is definitely able to perform marriage ceremonies in the state in which he is registered, as his church is there. Elsewhere, the minister must contact the state directly.
Official Documentation
A minister might share a personal connection with a bride and groom who want her to perform their marriage ceremony. The wedding might not be held in the state of their registration, and the minister might wish to accompany the couple to another state for the special day. In this case, the minister must ensure that of her official documentation is in hand and up to date. For example, her registration as an ordained minister for her state, congregation or religious society will show her affiliation with the church and her dedication to the process.
State Laws
Once the wedding date has been confirmed, the ordained minister must contact the department of that state that is responsible for granting the marriage license or other documentation. He must present his own documentation to request recognition in the state as a wedding officiant. Many U.S. states allow ordained ministers to perform ceremonies with no additional documentation required. Other states require specific processes, such as licensing in that state, letters of support for their services, and registration with their governing body.
Additional Licensing
Some states, including New York and Nevada, require the ordained minister to become licensed according to their laws before being able to perform a wedding ceremony. Each state has a governing body responsible for granting wedding officiants their licenses. The minister must adhere to their laws to perform the marriage in that state. There might be a fee for this licensing process.
However, many states, such as Michigan allow ordained ministers to perform marriages as long as they are registered in their own states.
Marriage Records
An ordained minister is often required to maintain a record of each marriage ceremony performed, as a matter of law and official registration. The couple is then able to confirm the marriage in the case their wedding certificate becomes misplaced. This official document reinforces the ordained minister's duties and record as a wedding officiant. This record may be required for the minister to perform her duties in the state in which she is requesting recognition.
References
Writer Bio
Rosalind Mohammed began writing in 2002. She contributes to various websites, specializing in writing about art and design-related topics. She holds a Bachelor of Environmental Design from the Ontario College of Art and Design and an honors Bachelor of Arts in English and fine art history from the University of Toronto.
Photo Credits
Jupiterimages/liquidlibrary/Getty Images