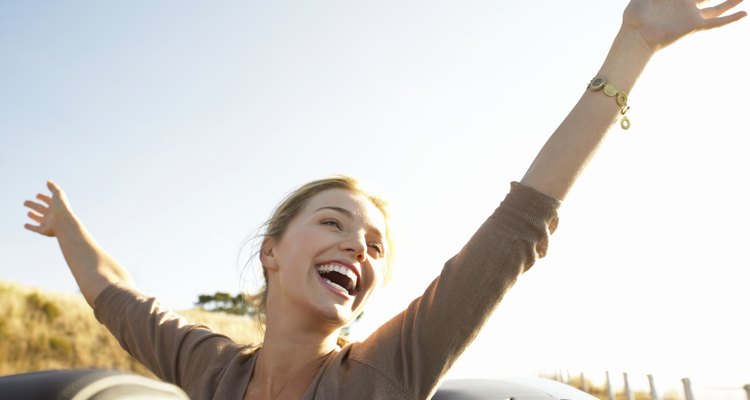 Digital Vision./Digital Vision/Getty Images
The thought of starting a new relationship after a breakup can be scary. Even an amicable split can leave you feeling insecure, depressed or wary of getting close to someone else. By focusing on your needs and approaching a potential relationship with the right frame of mind, you will be more likely to start a new relationship that will last.
Get Your Timing Right
It's important to strike a balance between diving right back into the dating scene and giving yourself sufficient time to recover from your breakup. To get the best out of a new relationship, you need to learn to value your relationship with yourself first. Go with what feels right for you, advises psychotherapist Barton Goldsmith in his article "10 Things to Remember After a Breakup" for "Psychology Today," but aim for somewhere in the middle of two extremes. Make sure you're not still too hung up on your ex before you get into another relationship, but don't wait so long that you become scared of putting yourself out there.
Learn From Past Mistakes
Even if your previous relationship ended badly, it can still be a really valuable lesson. Thinking about why things didn't work out with your ex can help you determine what you want from your next relationship and what aspects of yourself you may need to work on. If your last relationship ended because of a lack of trust, consider how you could have dealt with the problem in a more productive way. It's not about beating yourself up over what went wrong. Instead, use the experience to grow as an individual and put yourself in a healthier, happier place to begin a new relationship.
Embrace the Unknown
Being open to new ways of meeting people will increase your chances of finding your someone special. Online dating can be a great way of getting back into the dating scene if you want to take it slowly. Check out different dating websites and look for free trial periods to let you get to know the site and browse members' profiles before you commit to paying for a subscription. Try to be upbeat. Resist the temptation to mope around at home if you're feeling down about being single. Get yourself out there: Meet friends for a drink or accept an invitation to a dinner party. You never know where or when you will meet a potential partner, so embrace all opportunities to widen your social circle.
Aim High
Before you commit to a new relationship, make sure you are with that person for the right reasons. Work out what your instincts are telling you. Asking yourself some difficult questions at this stage will help you make the right decision and give a potential relationship a great chance of success. If you have gone for someone because he seems to be the exact opposite of your ex or turned a blind eye to early warning signs that he may not be right for you, this is the time to take a step back and re-evaluate the situation. It's better to be on your own than with the wrong person. When the right one comes along, you'll know.
References
Writer Bio
C. Giles is a writer with an MA (Hons) in English literature and a post-graduate diploma in law. Her work has been published in several publications, both online and offline, including "The Herald," "The Big Issue" and "Daily Record."
Photo Credits
Digital Vision./Digital Vision/Getty Images