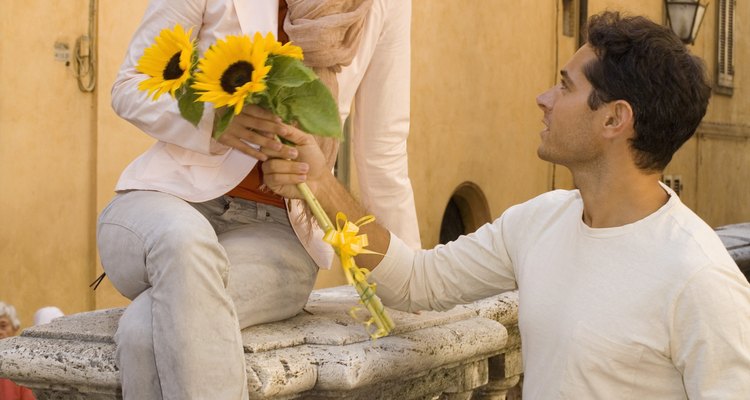 Jupiterimages/Brand X Pictures/Getty Images
The early stages of dating can be fun and exciting, but they can also be nerve-wracking, at least until you know whether things will work out. The first 3-5 dates are a time to figure out whether your date has relationship potential. They are also a time when it's easy to ruin any potential that may exist. If you've found someone you're interested in, follow these tips to ensure that things go successfully.
Go Slow with Intimacy
Getting too intimate too soon can overwhelm a budding relationship. This is true whether the intimacy is physical or emotional in nature. When you're strongly attracted to someone, it's tempting to jump into bed or talk a lot about your feelings for one another. However, this early in the game, many relationships aren't ready for this level of intimacy. Instead of rushing it, take the time to learn more about who your date really is before getting intimate. If things work out, the delayed gratification will pay off.
Avoid Heavy Topics
Perhaps you've met someone who's also experienced a bad divorce, the loss of a job, or an unfaithful ex. While there's nothing wrong with establishing that you have those things in common, avoid talking in detail about them or how difficult they've been for you. Heavy topics can weigh down the early dating experience and make your date wonder if you carry too much emotional baggage. Instead, focus on learning more about your date's work, hobbies, family, and places he or she has lived or traveled. Once past the early dating phase, your relationship should be strong enough to bear occasional heavy topics.
Go Out Once Per Week
During the early stages of dating, controlling the frequency of dates can prevent you from moving too fast or dampening your budding relationship with heavy topics. Consider limiting your dates to once per week, twice at most. This way, you both get time to get used to the new person in your life and evaluate whether he or she is a good match for you. Likewise, limit your phone calls, texts, and emails to a few times per week.
Postpone Introductions
The early dating phase is a time to get to know your date, and for him or her to get to know you. Avoid complicating this process by meeting one another's friends, family, or children. Sure, you'd like their opinions, but trying to impress one another is complicated enough without having to worry about impressing a bunch of other people too. Instead, focus on building the bond between you first. Once you've dated a while and agree you want to pursue a relationship, then begin making introductions with other important people in your life.
References
Writer Bio
Christie Hartman is a psychologist and author of five dating and relationship books. She has written for several online publications and has been published in numerous scientific journals in the areas of mental health and addiction. Christie earned her master's and doctoral degrees from the University of Colorado.
Photo Credits
Jupiterimages/Brand X Pictures/Getty Images