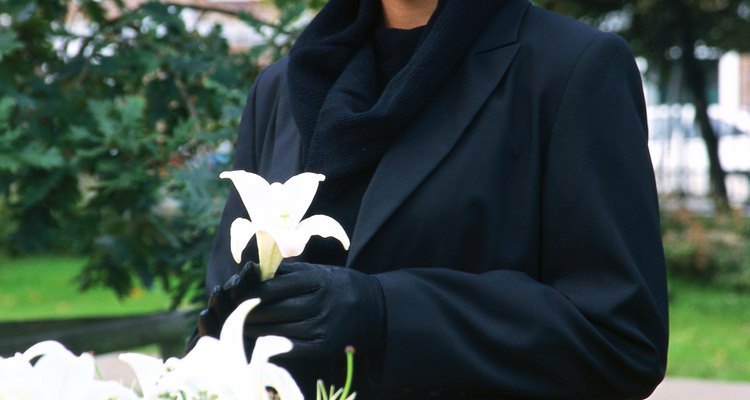 Stockbyte/Stockbyte/Getty Images
If you've experienced the loss of your spouse, you may find yourself in the grieving process for a long time. Well-meaning family and friends may encourage you to "get back out there" – but there are serious things to take into consideration before venturing into the dating world again, whether you're a widow or a widower. And, when it comes to knowing when you're ready, no one else can decide for you. Only you can know when that time is.
When You're Emotionally Ready
Losing a loved one is traumatic – there are no two ways about it. Give yourself time to grieve, reflect and reevaluate who you are at this time in your life. If you're still mourning the loss of your spouse – even a year after his passing – you aren't yet ready for a new love. The feelings of loss may always be with you, but continuing to have feelings of hurt, anger and grief that are debilitating indicates that you've got a lot to work through. And that's OK. Everyone's grieving timetable is different, and dating probably won't be on your mind during this time anyway.
When You're No Longer Comparing
While it may be easy to compare him to your late spouse, it isn't fair to size up a guy you're out with in terms of how he compares to the one you lost. Nothing is wrong with honoring the memory of your loved one, but to forge ahead, you must move forward with the realistic acknowledgment that your new relationship won't be the same as your last. Keep in mind that your circumstances in life have changed since you were first married. You may have been young with no children, and now have two teenagers and a full-time job. You're a different person now, and new relationships are unlikely to mirror your past.
When You're Content Alone
When you're used to being the other half in a relationship, being alone may feel foreign. But readiness to date means rediscovering who you are and being comfortable in your own skin. Find time for your own hobbies, friends and interests, and be at ease with simply being with yourself in your own time. Try taking in a movie alone or doing some people-watching in a café with a cup of tea. When you start feeling like flying solo is no big deal, that's a clear sign that you may be ready to dive back in to the world of dating.
When You're Prepared for Something New
A lot may have changed since you last dated, including the rise in online dating. You're likely to find yourself feeling that you actually need to learn how to date again. You may also have children to consider. They can't be the ones to decide whether it's time for you to start dating. That's your choice. But, be careful about introducing new romantic partners too soon. Psychologist Judith Sills recommends a "slow introduction." The time will come when you're ready, and when navigated correctly, those you're closest to will be ready too.
References
Writer Bio
Stacey Kole was managing editor of the International fashion and beauty publication Savvy where she penned stories on all things beauty and style, while writing cover stories on such celebrities as Victoria Hudgens and Julianne Hough. She continues to write for a variety of online fashion, beauty and health publications.
Photo Credits
Stockbyte/Stockbyte/Getty Images